Gail Chiasson, North American Editor
Following on from last week's CEO Spotlight on Micky Fung, president of Touchmedia we learned that Shanghai's municipal government has ruled that no further screens can be installed in taxis, and those already in place must be removed once their contracts expire.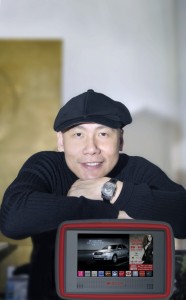 Apparently, screens are to disappear from taxis in the city following a crackdown on all forms of advertising in the vehicles and fines for infringing Shanghai's new rules are reportedly as high as USD 3,000.
This, we figured would have a major impact on Touchmedia. In fact, the ruling as a whole was somewhat surprising, considering that Touchmedia has been promoting the World Expo in 2010 in Shanghai and was even awarded the Media Award for Community Service from the Beijing Government in 2008 for its role in promoting the recent Beijing Olympics and other community and charitable causes – approximately 30% -to- 40% of Touchmedia screens' content is an informational or community service.
Touch Media has LCD displays in 27,500 of Shanghai's 43,000 taxis, mostly in the Bashi and Jinjiang fleets. We asked Tina Han, public relations manager, how the company is coping with the ruling…
"For touchscreens, under the new regulations, which affect Shanghai only, all our existing contracts, lasting for 10 years or more, will be honored," says Han. "Shanghai is one of four cities in which we currently operate. We are particularly grateful that the Shanghai government has protected our existing contracts.
"Further, we were very grateful that the government solicited input from us about these measures prior to issuing these new regulations. We will, of course, comply with them and will be withdrawing our paper frames before June 30 in Shanghai.
"However, this has never been our main business focus in Shanghai, other than to help control all the unsightly ads that were in place in the past."
Two or three years ago, there were many advertisements about plastic surgery for women, that created an unsavory environment for more established brands.
Han says that Touchmedia will continue to adhere closely to the government requirements and we will be working with the government to improve the in-taxi service…
"First, we will be introducing a map, including major transport hubs, tourist attractions, government offices, World Expo venues and key locations," she says. "It will operate in several languages and will even translate destination information for the driver. We are talking to sponsors at the moment.
"Second, we will further enhance the padding on the (touchscreen) units and will be introducing a dimming function for night time. We will also be introducing an on/off button. Whilst this is not required before the end of the year, we plan to introduce it much faster."
The new laws specify that companies that still have contracts to run must also have passenger-accessible on-off controls for both video and audio added by the end of this year. Currently, they start playing automatically when the taxi meter begins to run.
Han says that Touchmedia has already been testing the on/off button for more than six months and has data from over 200,000 taxi days.
"It does not impact our usage," Han says. "There were always 11 % of passengers who did not use the screen and now 7.4 % turn the screen off. In fact, overall usage numbers after installing the Off button are 1.0 % higher – consistent with our experience that more control gives more usage, but within the level of statistical uncertainty – so we have not made a big thing of it.
"Third, whilst we already have a high volume of government and community service material, we are delighted to contribute more to further expand cooperation with government departments and charities. In fact, today (Tuesday) we are announcing the results of a survey on changes in attitudes to the environment with officials from several government offices and being held at the government Institute of Science.
"And there are also several upcoming projects in conjunction with the 2010 Shanghai EXPO."
Touchmedia is not the only one having to deal with the Shanghai authorities' new restrictions on out-of-home advertising. The city recently limited the number of screens on buses to two per vehicle and also required the installation of volume controls. And billboards were earlier banned from the North Bund area of Shanghai, where many tourists are expected to arrive by cruise ships to take in 2010 EXPO.