Gail Chiasson, North American Editor
On May 14, the San Francisco office of eyemagnet and The Hyperfactory mobile marketing and advertising specialist launched and managed an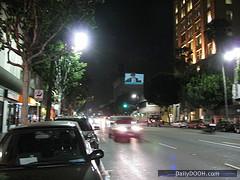 innovative DOOH interactive campaign on behalf of Air New Zealand, promoting the LAX to London Heathrow sector, and a key part of Air New Zealand's Relax to London campaign running to the end of May.
An image of a retro Air New Zealand pilot was projected onto walls around Los Angeles with the public encouraged to send an action/activity text messages to a specific short code. Each message received then resulted in the pilot acting out the request as per the message.
For example, if the message suggested that the pilot break into dance, the pilot on screen would dance.
The campaign ran on the corner of Hollywood and Ivar in West Hollywood for several hours from dusk on Thursday, Friday and Saturday night without any problems.
"It proved that eyemagnet has no problem delivering robust DOOH campaigns," says Nick Ratcliffe, eyemagnet's general manager.
A previously featured Motion Detection application for Unilever's AXE brand of men's body spray, was recently awarded a Gold at the CAANZ Media Awards for the Best Smart Media Idea. To follow this up, eyemagnet will launch a Motion Detect application May 27 with an upmarket New York gallery. These executions follow on the heels of the Samsung campaign in Times Square over last Christmas and New Year.
A key feature of these campaigns is that SMS (text) and MMS (pictures) are included as a core component.
"eyemagnet believes that interaction is a key component of any OOH execution, including Digital Signage," says Ratcliffe. "eyemagnet's core DS product is integrated with mobile technologies and includes developing applications which allow users to control the content on screen using their mobile phone.

"Our aim is to develop networks that deliver compelling and engaging content, and the best way to offer this interaction is via the ubiquitous mobile device."