This 'Time to Consider' campaign finishes today, 20th May, 2009 on the London Underground but has generated a fair amount of controversy and engaged the UK In a lot of debate (it's been running since 20th April across 35 tube stations).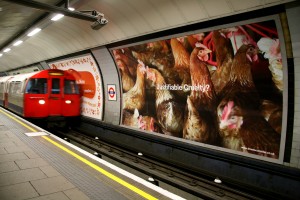 Whilst we agree with CBS Outdoor (and many others) that this cross-track campaign was a great example of a brand using the medium and being able to remain front-of-mind long after the actual media interaction took place (thousands of people posted thoughts and comments on the likes of Facebook, Bebo, Digg, Twitter, Flickr as well as sites from the RSPCA, The Hunting Life, British Farming Forum and the League Against Cruel Sports) are we the ONLY ones in the industry to believe that there is something fundamentally wrong about having an 'anonymous campaign' – all agencies involved are apparently sworn to secrecy apparently?
Anyway, Greg Grimmer, Founder, HMDG, told us "The latest campaign from CBS Outdoor has taken the well established concept of dwell time and shown how it provides the opportunity to create an ongoing dialogue with the consumer. It's not just an opportunity to provoke reaction on the platform, but also to drive consideration beyond this. In this case, driving them online, but that could quite easily be to a call centre or in-store."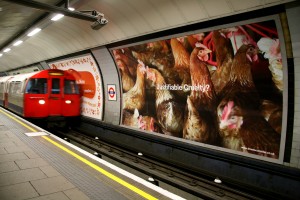 Time to Consider replicated a standard two-week cross track campaign, followed by a burst of XTP with the aim being to encourage commuters to consider others opinions and drive traffic to the website, www.timetoconsider.co.uk to collate the public's views and votes on the four emotive issues.
Mark Middlemas, Managing Partner, Universal McCann said "This fantastic use of bold, impactful images grabs your attention immediately and makes you stand up and pay attention as a passing consumer! I was intrigued by the images and thought they may have been linked to the recent Times OOH campaign but either way they got the desired result. I think any OOH campaign with such hard working images and that asks a question will drive, interest, intrigue and ultimately response."
Mark Fallows, Director of Digital Content, McCann Erickson added "If the route to attention and interaction is based on a cocktail of clarity of insight, simplicity of idea and quality of execution, then this had me fully involved on all levels. I even took a pic on my iphone. Great use of the medium." and whether we liked the anonymity of it or not it certainly seemed to work.