Adrian J Cotterill, Editor-in-Chief
Shares in Avanti Screen Media (ASG) were up 30.77% yesterday on the announcement that they had signed Sony as a global sponsor for the DOOH Short Film Festival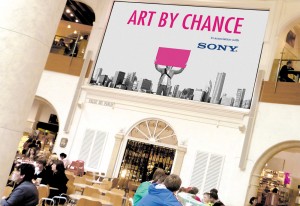 Stuart Pemble, of SONY Professional (Europe) told us "Working with the 'Art by Chance Festival' we can see how Digital Media can be used not only for commercial purposes, but also to bring creativity and create a large impact on a broader audience. The engagement people have with screens in their everyday lives means that the ultra-short films presented through this communication channel will really help people to see digital media in a new way."
Billed as the 'largest public art event ever' the festival is a global event that is being screened across 14 countries in 64 cities worldwide and is based around the theme 'Journey'.
There have been over 700 entries to the event and judging is now taking place to find the Top 30 short film entrants to appear onscreen during the two week festival which runs from 22 May to 3 June 2009.
Simon Rees, CEO of Avanti added "We're delighted to announce Sony as the Festival sponsor. While the Sony brand is recognised for its technical innovation and creativity, the company's involvement clearly demonstrates its belief in digital media as a creative and impactful communication platform. 'Art by Chance' is a unique event which we believe provides a step-change in awareness and flexibility of the medium".