Last week Verizon Communications Inc. (NYSE, Nasdaq: VZ) acquired all of the assets of LQD WiFi LLC., a private company based in New York – described as a developer of outdoor interactive displays that provide WiFi connectivity along with news, emergency alerts and community information.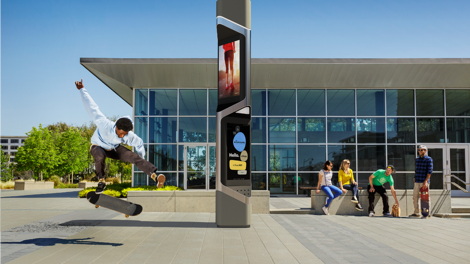 LQD's main service is called Palo, a kiosk-style structure similar to LinkNYC's Link that serves both as a WiFi station as well as a place for people to interact with information on the Palo itself.
Former Microsoft exec, Randy Ramusack, Founder and CEO of LQD WiFi said "We designed Palo, from day one, to be part of the community, offering Wi-Fi, public safety features and a unique, interactive community engagement platform. Palo's human-scale touch screen lets users explore and connect with the local community creating multiple ways to engage, through an innovative, purposeful and curated experience."
This is the fourth acquisition made recently by Verizon which can be attributed to #IOT – obviously a complement to Verizon's other acquisition strategy based around consumer-focused media companies (Yahoo, AOL etc).
Other #IOT acquisitions include Sensity Systems, Fleetmatics and Telogis.
Mike Lanman, SVP, Enterprise Products and Internet of Things at Verizon, said "LQD's Palo technology hubs capture Verizon's vision of delivering citizen engagement experiences by connecting people with their communities while providing critical security, transportation and wayfinding solutions as well as Wi-Fi capabilities. This transaction uniquely positions us to utilize our unmatched infrastructure, platforms and network at scale to deploy elegant and engaging community technology hubs that connect, inform, inspire and support people where they live, work and play".
Financial terms of the deal were not disclosed.