Adrian J Cotterill, Editor-in-Chief
Dynamic Outdoor, in conjunction with RCC Media, has launched two 2 spectacular bridge overpass faces in north Toronto. The two new 8' x 28' digital billboards are on the bridge overpasses on Bathurst St. at Steeles Ave. and Dufferin St. at Steeles Ave.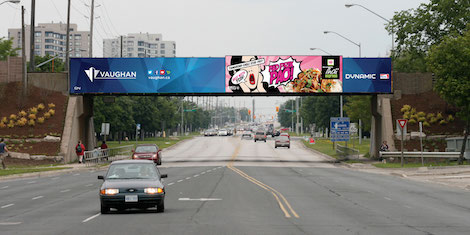 These new billboards, both facing south, target traffic heading out of Toronto and into densely populated areas such as Vaughan and Thornhill. Positioned directly above the roadways on the railway overpasses, these boards have spectacular sightlines and feature a 10mm pixel pitch making these boards the highest resolution digital billboards in the city.
Brandon Newman, President of Dynamic told us "We are thrilled to announce these new faces into Dynamic's National inventory, our footprint in the five major markets across Canada is growing consistently and these being the first and only digital faces of their kind in Toronto makes this even more exciting" said "Our long-term agreement with RCC Media means we can take advantage of installing the latest technology boards on RCC's prime real estate locations, standing true to our goals of being the only pure play digital out-of-home company with a National footprint."
The new Toronto locations come only one week after Dynamic announced the addition of four new faces in the Calgary market. The company says it has an aggressive growth plan, which includes additional digital out-of-home in all of Canada's top five markets.