#ISE2017 this week, will be a special landmark for Dutch digital signage software developer NDS as they have launched a brand new corporate identity – for both the company and their flagship product PADS4 – they have changed their name into 'NDS' and said goodbye to the former 'Net Display Systems'.
This year NDS will have been in business for 23 years. Over those two decades, they have built a sound, growing, and profitable business by helping their partners achieve success.
Willie-Jan Bons, NDS CEO told us "To stay ahead in developing software for dynamic display communication NDS now has even more focus on improving, exploring and innovating themselves and their products. With this mindset it is only logical to rebrand and re-establish NDS as a solid company and one of the first digital signage software pioneers".
Previously known as Net Display Systems, the people at NDS have simply adopted the abbreviation their worldwide partner network has already used for years. Not only that, it's a reflection of the company's renewed commitment to being a strategic partner to their clients with short lines and direct communication.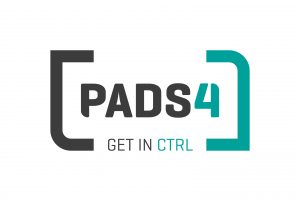 Besides the introduction of their new company name, their digital signage software product PADS4 also underwent a brand enhancement. Besides a logo makeover, PADS4 is now supported with the new tagline 'Get in control"
Willie-Jan Bons added "With re-branding NDS and PADS4 we have chosen a future-proof direction to continue to stimulate brands and organizations all around the globe to inform, guide, surprise and engage end-users in the best possible way. We see PADS4 as a platform for any dynamic display communication need. Whether it's corporate communication, wayfinding or digital menu boards. It's one software solution that allows you to get in control of all your communication wishes, all within the same digital signage network."
You can see the new NDS at #ISE2017 all this week in Hall 8 on stand 8-F240 in the hall 8.