Adrian J Cotterill, Editor-in-Chief
Following the recent 90-year anniversary of the iconic red British phone box, the K2, appearing on UK streets, New World Payphones has brought it into the 21st century with high-tech makeover.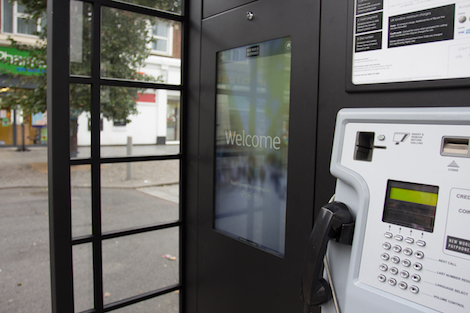 This staple of British tradition has everything you would expect from a traditional phone box, plus a number of adaptions for modern use – this includes high-speed Wi-Fi connection provided by Virgin Media, touchscreen functions for local services and digital advertising screens.
Beyond its practical usage, the phone boxes will also form the basis of a renovation in public infrastructure. For every new phone box built, New World Payphones will declutter the streets by removing older phone box models that have fallen into disrepair AND plant an urban tree via a partnership with Trees for Cities. The partnership provides the perfect fusion between technological and environmental enhancement on the high street.
Despite being a phone box for use today, the design is drenched in telecommunications heritage. All production is carried out in Britain by Lord Sugar's Amscreen company in Bolton and the design is inspired by the design ideas used by Sir Giles Gilbert Scott in creating his original K2 phone box. The K2 phone box was Sir Giles Gilbert Scott's first vision for a phone box and arrived on London's streets in 1926, just over 90 years ago.
While the traditional red phone boxes have always retained a degree of charm, more modern models – via ageing as well as vandalism – have become something of an eyesore on Britain's high streets. The revenue generated from the New World Payphones digital phone box will be used to carry out weekly maintenance –more than four times as frequently as existing phone boxes – thus countering the potential for urban decay.
Meanwhile, these modern additions will help improve the UK's connectivity to broadband in urban areas. More mobile broadband spots, such as the one provided by New World Payphones, essentially act as boosters for the UK's connectivity.
Lord Sugar, Chairman at Amscreen, told us "Along with the likes of red buses, Piccadilly Circus and Big Ben, the inner-city phone box has been synonymous with Britain's cultural heritage since their introduction nearly one hundred years ago. It is therefore fitting that Amscreen – a British company – have been charged with manufacturing the remodelling of this classic design icon. I view the UK manufacturing industry in the highest regard. It has always been the global standard bearer for quality and I'm proud to see Amscreen continue this tradition with a project of this scale. I am confident that our digital signage expertise, combined with the vision of ClearChannel/New World Payphones and the high grade technology provided by Virgin, has helped create a new entry into our national phone box collection and one that could become as iconic as the famous K2 design."
Its our understanding that Amcreen have already shipped well over 200 units to Clear Channel UK, and it's likely that well over half of these are already in the ground.
Justin Cochrane, CEO of Clear Channel UK, the owner of New World Payphones told us "We're delighted to be officially launching our phone box for the 21st century. These new phone boxes provide a host of benefits to the public including telephone, Wi-Fi and local area information. This launch will also see us declutter high streets and plant hundreds of trees in urban areas while providing a timely boost for British manufacturing. The public phone box sits alongside Big Ben, cups of tea and Tower Bridge when you think of institutional British icons, so to be involved in the evolution of such a stalwart of the British high street is an honour."
New World Payphones is a public payphone provider, and previously part of the Arqiva telecommunications group. New World Payphones are transforming telephone boxes in London and across the country. The new phone boxes, feature a modern design with a nod to the iconic London phone box. The UK-manufactured phone boxes have been updated for the 21st Century offering free public Wi-Fi and interactive local area information maps. Through a partnership with international environmental charity Trees for Cities, New World Payphones will also plant a tree in a local urban area for every phone box they upgrade; making streets better and leaving a lasting legacy for the public.