Hello London, the media partnership formed by Transport for London (TfL) and Exterion Media, has unveiled Cancer Research UK's innovative advertising campaign on the Tube network to raise awareness and support for this year's Race for Life events around the UK.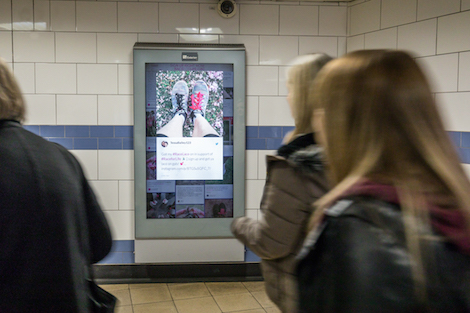 Over the next two weeks, as part of Race for Life's 'This Is Beating Cancer' advertising campaign, inspirational moments from Race for Life participants gearing up for this year's events will be shared live on over 140 digital screens across 25 London Underground stations.
Images and messages from participants tagged #RaceforLife, #RaceLace, @crukraceforlife and @RaceForLife on social media channels will be displayed on digital advertising screens at key Tube and DLR stations including Bank, Bond Street, Canary Wharf, Cutty Sark DLR, Oxford Circus, Paddington, and Waterloo.
The images will include photos of people wearing one pink lace in their trainers. As part of the 'This Is Beating Cancer' campaign, Cancer Research UK is encouraging people to wear a singular pink lace and share a picture tagging #RaceLace. The lace is a badge of honour for each person, signifying that they are taking part in Race for Life and helping to beat cancer.
Emily Smith, Head of Events Marketing at Cancer Research UK, told us "Our media partnership with Hello London allows us to share with commuters the inspirational moments of those who are taking part in Race for Life this summer in a new, innovative and engaging way. By showcasing the brilliant people who have already signed up to an event, we want to inspire others to get involved too. Taking part in Race for Life is a great opportunity to make an impact in beating cancer by helping to fund our life-saving research."
The campaign was planned and booked by MediaCom and Kinetic.
Chris Reader, Head of Commercial Media at Transport for London, said "We are delighted that Cancer Research UK has chosen to work with us again for this year's Race for Life. The campaign really showcases the impact of our new digital advertising screens and our investment in our advertising estate. Our new Hello London partnership provides a more flexible and engaging platform than ever before, allowing Cancer Research UK to create a really tailored and engaging campaign."
Cancer Research UK's Race for Life 2017 campaign, 'This Is Beating Cancer' is scheduled to appear on 143 digital screens in 26 Tube stations until Sunday May 7, 2017.