Russ Curry, Ministry of New Media
We are aiming to have a bit of fun with the first ever Global Digital Signage Conference scheduled next Thursday during London Digital Signage Week, taking place at the Queen Elizabeth II Conference Centre.
Not only have we laid on one of our best speaker line ups ever, we've also made space for a little of bit of what you might call, an exhibition area.
It's no where in the league of a DSE or an ISE, and neither is it intended to be – DailyDOOH's editor in chief, Adrian Cotterill likes to call it a 'Maker Faire'  which probably doesn't describe it correctly just yet but maybe, in years to come, that's how it may turn out.
This year we're pleased to say that we've had tremendous support from true industry illuminati who have shared our vision of what it might one day become: –
The UK's best digital digital signage solutions agency (so says the DailyDOOH so it must be true) are entering into the true spirit of the space available at the Queen Elizabeth II Conference Centre and bringing a bike and a turbo trainer. Attendees will be challenged to jump on the turbo trainer and do a mile -the total miles ridden on the bike at the event will be matched by good ourselves for £'s and donated to Prevent Breast Cancer – Pixel are soon cycling over 400 miles from London to Paris in order to raise money for Prevent Breast Cancer (the only UK charity funding ground-breaking research solely aimed at preventing breast cancer). If that wasn't enough, we get to see Pixel Inspiration employees; Barry Bugg, Natalie Woodall and Chris Shenton in skin tight lycra.
NEC Display Solutions have a small booth where they will demonstrate their OMi Raspberry Pi solution with their NEC Series V and P displays.
The Ministry of New Media will have a small 'newsstand' with a selection of their books, newspapers and other people's magazines available.  The nice people at Pristine-Screen will also be there and will be offering complimentary screen cleaning of your mobile devices.
Glasgow based, NomadiX Media, are using the event to show, for the first time, their new prototype iWalker complete with advanced Quividi recognition. Nomadix Media founder Mark Evans will be on hand for anyone who wants to get a hands-on close-up with the prototype. This really is an exclusive sneak peak and is not to be missed.
ONELAN, the UK based pioneer of digital signage players, content and network management systems and data integration tools and quite clearly one of the top 10 digital signage vendors globally will be out in force to explain why they are not just the undisputed leaders in the education market but had so much to offer the retail and corporate sectors. In the past year or so ONELAN have made significant investments in developing international markets – opening a new Northern European office in Germany as well as new operations established in the Middle East and the USA. ONELAN truly are now an international player
Leading applied technologies manufacturer, Trueform Digital, will be in attendance in the exhibition area to discuss their range of outdoor digital 6 sheet products, developed to meet the demands of the rapidly growing DOOH market internationally. CEO, Jonathan Morley and senior technical engineering staff will be there throughout the day to answer any questions and offer advice to anyone considering taking the plunge into outdoor 6 sheet advertising platforms. Trueform have 30+ years of experience in the design, manufacture and installation of outdoor ruggedized digital displays.
And don't forget, you get to see these folks in Lycra raising money for a worthy cause…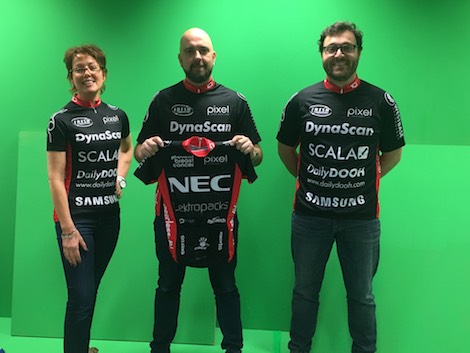 With a week to go, we already have attendees signed up from Australia, Belgium, Brazil, China, France, Germany, Italy, Lebanon, Netherlands, United Kingdom, Zimbabwe and most recently Tanzania BUT if we look at the current attendance figures across all of the events during London Digital Signage Week, then we can add in Norway, Denmark, Poland, Singapore, Spain, Sweden, Switzerland, South Africa, Thailand and New Zealand.
London Digital Signage Week takes place May 8-12, 2017 and as with its counterpart in New York, the week is for anyone involved with digital signage and interested in retail, employee communications, smart cities, digital out of home and of course digital signage!
There is still time to register for the event here.