Anders+Kern UK Ltd (A+K), a leading distributor and integrator of audio visual solutions, are hosting their room booking and meeting panels event at the Royal Danish Embassy during London Digital Signage Week on Wednesday May 10, 2017.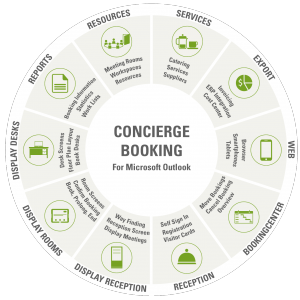 The event, which is targeted at Facilities and IT professionals, is being organised in association with the Danish developer of the Concierge room booking solution, Fischer & Kerrn.
The afternoon (from 1 to 6pm) will showcase the best in room and resource booking software and will provide attendees with the opportunity to test out the latest that room booking software has to offer.
Fischer & Kerrn will be demonstrating their Concierge Booking software and meeting room booking panels. Concierge Booking is compatible with Microsoft Outlook and handles all aspects of booking meeting rooms, desks, parking spaces, resources and other services for events such as invoicing. Evoko Liso, the room booking manager from Evoko will also be on display at the event.
In addition, the latest collaborative technologies from A+K's newest partner i3-Technologies will also be showcased on the 10 May. Products exhibited will include the new all-in-one meeting display board the i3HUDDLE 2.0 and the i3SNAP, which is an innovative solution allowing users to take and share digital meeting notes with ease.
There will also be the opportunity throughout the afternoon for attendees to speak with room booking technology experts from both Anders+Kern and Fischer & Kerrn about the bespoke options that are available to them.
On this year's event, Steven Black, Managing Director of Anders+Kern, told us "We are looking forward to welcoming attendees to an afternoon where professionals can explore how they can enhance their current workplace utilisation. We believe the afternoon will be of real benefit to those who want to improve workflows within their business and increase efficiency".
The Royal Danish Embassy is located in prestigious Knightsbridge, near Harrods. Danish refreshments will be available throughout the afternoon. A+K welcomes all those interested to sign up for the event either by following the room booking event website link, by emailing market
ing@anders-kern.co.uk or calling 01638 510900. Due to security implications at the Embassy, pre-booking is essential.
London Digital Signage Week takes place May 8-12, 2017 and as with its counterpart in New York, the week is for anyone involved with digital signage and interested in retail, employee communications, smart cities, digital out of home and of course digital signage!