Adrian J Cotterill, Editor-in-Chief
Clear Channel Airports, a brand division of Clear Channel Outdoor Americas (NYSE: CCO), and a subsidiary of iHeartMedia Inc., this week announced that it has signed a new five-year partnership with an additional five-year option with the Corpus Christi International Airport to provide state of the art advertising solutions.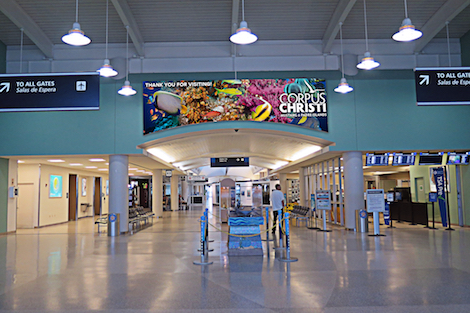 Fred Segundo, Director of Aviation of Corpus Christi International Airport said "Corpus Christi International Airport plays an important role in the economic vitality of the Coastal Bend region," said "We are excited about the new advertising program and the investment that Clear Channel Airports is making here at Corpus Christi International Airport. The new program is helping us to modernize the look and feel of the terminal while providing a viable outlet for our business and tourism partners to reach their customers."
Clear Channel Airports has been the incumbent concessionaire for Corpus Christi International Airport since 2002. With the renewed partnership, Clear Channel Airports will install a dynamic program to improve the passenger experience while providing advertisers valuable coverage. Not only is Corpus Christi a popular tourist destination with its attractive beaches, marinas and museums, it's a center for petrochemical manufacturing, large-scale fabrication, marine research and maritime shipping, making it an appealing city for national and local brands looking to reach business and leisure travelers.
The new advertising network at CCIA will blend with the modern design and coastal flavor that's unique to the city of Corpus Christi. The new elements include:
A new iconic 60 square foot LED video wall;
Arrivals LCD network in baggage claim;
Environmentally-conscience, energy-efficient Tension Fabric Displays (TFDs);
Locally themed elements to tie new media assets into the look and feel of the airport terminal.
Morten Gotterup, President, Clear Channel Airports told us "For over 15 years, Corpus Christi International Airport has been a valuable partner for Clear Channel Airports and we are thrilled about our new program which will offer vibrant, best in class advertising solutions to brands. Corpus Christi International Airport offers advertisers a highly attractive opportunity to reach affluent consumers and professionals thanks to the region's progressive growth as a tourist destination and business hub. It's an opportune time to invest in the future of this energetic city, and we are excited to make the travel experience more entertaining for its visitors."
The latest advertising network will allow brands to reach over 675,000 annual passengers traveling to the Coastal Bend region of Texas, where tourism generates an annual economic impact of USD 1 billion. Installation of the new advertising network will be completed by July 28, 2017.