In a number that is unsurpassed by any Outdoor Media company in Australia, APN Outdoor has announced they have reached and exceeded their anticipated goal of reaching 100 Digital Billboards by 2017. The Elite Screens portfolio of digital billboards reaches over 65% of the general population and engages a staggering 10 million contacts every month.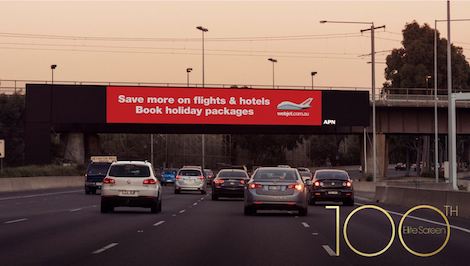 The lead up to this milestone has seen the continuous and strategic growth of APN Outdoor's Elite Screen portfolio in all markets, with a focus on high quality screens in premium locations. Expansion includes expansion into regional Queensland and a series of Billboards due to be converted to digital sites following the company's retention of the Tullamarine Freeway contract. Rounding out the century of Elite Screens is the commanding Heyington Overpass site, located on Melbourne's busy South Eastern Freeway.
APN Outdoor CEO, Richard Herring, told us "We are thrilled to announce our goal of 100 screens has already been reached and exceeded in 2017. It's been a phenomenal year for us in terms of digital development and we can confidently say we are the leaders in this space. Our approach has always been towards installing the best possible hardware in the best locations and this will remain our focus as we look to the next milestone."
To coincide with the landmark, APN Outdoor has launched an Elite Screen campaign in market, "'The Digital Heavyweights' with a focus on the quality, scale and capabilities of Elite Screen technology. The immediacy and flexibility of the digital format has become a trademark amongst the most noteworthy and successful Outdoor campaigns in recent years. This technology gives brands more creative flexibility with opportunities to integrate RSS feeds, weather and location-sensitive creative, live updates as well as use of recognition software to ensure greater audience engagement.
APN Outdoor is Australia and New Zealand's most progressive Outdoor advertising company; leaders in the Digital Billboard, Billboard, Transit, Rail and Airport advertising categories. Whilst dominating traditional outdoor formats, the company also maintains particular focus on growing and developing their digital portfolio, establishing APN Outdoor as the unrivalled leaders in this space. In addition, APN Outdoor have established themselves as vanguards in research, investing in several market leading studies, that prove the power of the medium and foster innovation and growth throughout the sector. APN Outdoor boast over 36,000 high-impact, attention-grabbing locations, dominating major city skylines, roadways, rail-stations and airports across both sides of the Tasman.