Here is the full agenda for The DailyDOOH Investor Conference which takes place on Tuesday October 31 during New York Digital Signage Week.
The Agenda follows a familiar pattern for Ministry of New Media events, with each speaker being given 30 minutes to get on, get their message across and get off (again) but, as always, with plenty of networking time and space for the Q+A that usually follows each speaker after their given 30 minutes, no speaker is ever cutoff if there is good Q+A from the audience – Ed.
08.15 Registration & Breakfast
09.00 Opening Remarks Adrian J. Cotterill
09.30 Darren Glatt | Partner | Searchlight Capital and Mike Collette | CEO | PatientPoint – In Conversation with Co-Chair Adrian J. Cotterill
10.00 OOH and M&A – A Look Ahead | Mark Boidman | Managing Director | Peter J Solomon Company
10.30 Networking and Coffee
11.15 Why Do The Wolves of Wall Street Want To Destroy The OOH Industry? | Dirk Hülsermann | Managing Partner | DeBere Capital Partners
11.45 Board Level Discussion on the Future of Digital of Out Home – Jeremy Male | Chairman & CEO | Outfront Media; Kevin Gleason | CEO | Adams & Fairway; Ari Buchalter | President & CEO | Intersection – In Conversation with Nancy Fletcher | President & CEO | OAAA
12.30 Networking & Lunch
13.45 There's More to DOOH Than Just Digital Signage – Elevator Sessions: Anne Marie Stephen | Bluefox.io; Jack Chen | CEO & Co-Founder | LOUD-HAILER Inc.; Matthew Olivieri | CEO | AdSemble Inc..
14.45 How to Approach City and State Governments | Craig M. Johnson | Principal | Dentons
15.00 Networking & Coffee Break
15.30 Transforming Digital Out of Home with Real Time Capture of Consumer Engagement And Demographics in Retail | Charley Delana | EVP Global Entertainment & Brand Partnerships | Westfield and Loren V. Miller | Senior Vice President | Westfield Brand Ventures
16:00 Australia's Industry Commitment to Work Together to Solve The Automation and Programmatic Puzzle | Brendon Cook | CEO | oOh!Media
16:30 Chairman's Wrap-up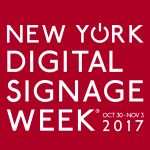 16:45 Reception & Cocktail Party sponsored by Dentons
19.00 Close
Registration can be found here.
Title Sponsor Dentons, Gold sponsors Ayuda Media Systems and Civiq Smartscapes. Silver sponsors; AdSemble, Bluefox,io, BroadSign, Creative Realities Inc., FastPay, Hivestack, Loud Hailer and Mereo.
The historic Roosevelt Hotel, known as 'The Grand Dame of Madison Avenue' is the official hotel for New York Digital Signage Week. Attendees to any of the week's events are eligible for preferred hotel rates.