Gail Chiasson, North American Editor
If you have never attended an SEGD Conference, this is most definitely your year to do so. Having attended innumerable other conferences throughout my career, my first SEGD Conference two years ago was an incredibly pleasant surprise and a breath of fresh air – I still remember many of the sessions in vivid detail!

This year, the focus at the SEGD Xlab on Thursday, Nov. 2, 2017, is how experiential design is being used in public spaces, cities, businesses, strategies and content, with a somewhat less focus on technology itself.
Justin Molloy, conference director at the Society for Experiential Graphic Designs told us "Technology will be more discreet. Technology is maturing and is more integrated now. We'll be looking at new models, more on how technology is being addressed by users, and their expectations in this era. We'll be looking more at experiences."
Each of the earlier four sessions will include two speakers and a moderator, with time for a Q&A after each and as usual they've lined up an impressive group of highly-regarded speakers.

Conference Registration/Networking
8:00-9:00am
Welcome + Introductions
9:00am
SESSION 1: THE DISRUPTED CITY:
 THE PATH TOWARDS SMART(ER) PLACES
9:15-10:15am
Tim Fendley, Living Map Company
Sandra Baer, Civiq Smartscapes
The path between technology that is integrated into today's urban environments and the vision for a truly smart city seems like a long journey. What will the new types of experiences that connected cities provide us? Will the future of smart cities be digital pylons and mobile guides and maps? Will it be invisible intelligence? Learn and debate these and questions in this session that's sure to get you thinking about how disruption is shaping the vision for our cities.
Moderated by Adrian Cotterill, DailyDOOH
Morning Break
Meet and connect with design + technology leaders
10:15-11:00am
SESSION 2: DISRUPTED SPACE: NEXT GENERATION PUBLIC EXPERIENCES
11:00am-12:00pm
Alexandre Simionescu, Float4
Inessah Selditz, LAB at Rockwell Group
Digital experiences and the technologies that are integrated into public environments have evolved from low resolution displays to integrated surfaces and spaces providing real time information and services. These new types of experiences aim to provide users with more meaningful interactions and experiences. Learn how the evolution of both design strategy and technology are yielding disruption in both public experiences and public spaces.
Moderated by Douglas Hampton-Dowson, Reality Interactive
Lunch Break
Grab a bite to eat with new Xlab friends in Chelsea
 12:00-2:00pm
SESSION 3: DISRUPTED PRACTICE: 
TECTONIC SHIFTS FOR BUSINESS AND SERVICES
2:00-3:00pm
Patrick Gallagher, Gallagher & Associates
Carlo Bailey, WeWork
The design world has changed and technology has afforded businesses the capacity to work under new models while offering services to clients. Business and user centered design are disrupting industries and service models that have remained unchanged for decades. The trailblazers pioneering the future of experience design have responded to these opportunities and have created new practices for the future. Learn from their experiences and how you can prepare your firm for these disruptive shifts.
Moderated by Paul McConnell, Intersection
Afternoon Break
Meet and connect with design + technology leaders
3:00-3:15pm
SESSION 4: DISRUPTED STORYTELLING: NEW MODELS FOR USER-ENGAGEMENT
3:15-4:15pm
Jonathan Alger, C&G Partners
Matthew McNerney, Potion
From museums to mixed reality in everyday places, new experiences fueled by new uses of technology, are are radically disrupting the way traditional spaces and verticals are connecting with their users. Gain a first-hand perspective of what disruption means for places that use storytelling and new platforms for connecting by leading experience design practitioners who are radically changing the game for user-engagement.
Moderated by Emily Conrad, TESSELLATE
SESSION 5: KEYNOTE: DISRUPTING EXPERIENCES
4:15-5:00pm
Valentin Spiess, iart
2017 SEGD Best of Show and Honor Award firm
Moderated by Anna Sharp, Two Twelve
Closing Comments
5:00pm
SEGD NYC Chapter Mixer
5:30-7:30pm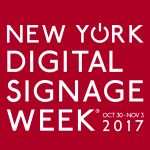 As you can see above, there will be four main sessions followed by, in an interesting juxtaposition from the norm: the keynote will given by the last speaker of the day, Valentin Spiess who will talk about 'Disrupting Experiences'. He is from iart, Switzerland, the 2017 SEGD Best of Show and Honor Award winner.
SEGD Xlab is held, as it has been the last few years, during New York Digital Signage Week, on Thursday November 2, 2017 at: SVA Theatre, 333 West 23rd St, NYC, 10011. Registration can be found here.