Adrian J Cotterill, Editor-in-Chief
A new digital billboard dots the Connecticut skyline, manufactured by Daktronics (NASDAQ-DAKT) of Brookings, South Dakota. It's a recent purchase for Barrett Outdoor, based out of New Haven, Connecticut, who (no surprise here) plan to sell advertising space on the DB-6400 LED which measures 14 feet high by 48 feet wide.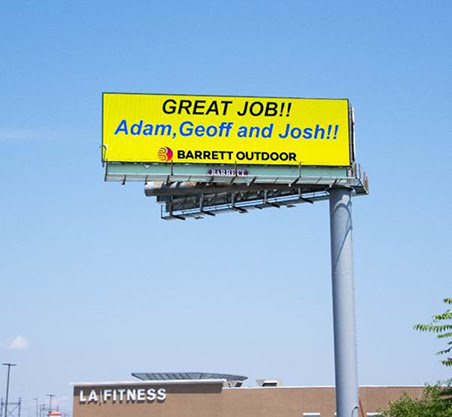 John Barrett, a partner of Barrett Outdoor told us "This was our fourth and easiest digital installation. The board sold out immediately and the market noticed the exceptional quality of the display. It's built to last, there is incredible attention to detail and the Daktronics team is great to work with."
Courtney Ericson, Daktronics regional Out of Home sales executive said "This project was seamless and a notable install due to Adam Buehler, Barrett Outdoor's operational manager. He had everything prepared and ready to go; it was effortless and smooth. They are a talented outdoor company and super active within their community. This was more than just a sale; it's the beginning of a beautiful partnership".
Interestingly, the DB-6400 features Snap Calibration, a brand-new calibration technology Daktronics recently introduced to the market – Snap Calibration allows technicians to replace modules in the display and press a button remotely to calibrate them to match the surrounding modules. This results in less time on site and enhanced lifetime image quality.