A week today in Orlando sees the opening of InfoComm 2009 (17th to 19th June) although of course various conferences and the Strategy Institute's DS Tech Summit start earlier. We are flying out in strength at the weekend to cover many of the events and will be reporting throughout the week – seriously, who else covers events like us?, Ed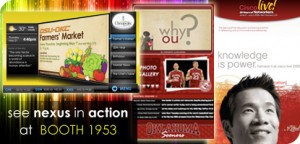 Regular readers know our thoughts about Infocomm 2008 which blew us away in general AND was widely supported by the digital signage industry but it will be interesting this year to see what the turnout is like and what the digital signage vendor support is.
Broadsign, C-nario and Dynamax who all had stands last year are not exhibiting this year which is a real shame – C-nario and Dynamax especially had great stands in 2008 (the event we think made much less sense for Broadsign which played / plays much more in the Enterprise space and now of course through integrators).
The organisers then must love Scala, stand #2354 who are back yet again – hats off to Scala for their great support at events around the globe, Ed
Two newcomers to the event (apologies if you were there last year and we missed you); Nexus Digital Signs, booth 1953 who make a lot of noise but we never ever see around in the real world (so will be good to catch up with them) and WireSpring (yes that's the WireSpring that 'never' ever does shows) who have their own stand #1746.
Brightsign, Chryon Corporation, STRATACACHE and X2O Media are also exhibiting and .advancedMethod are there but not there if you know what we mean!