Adrian J Cotterill, Editor-in-Chief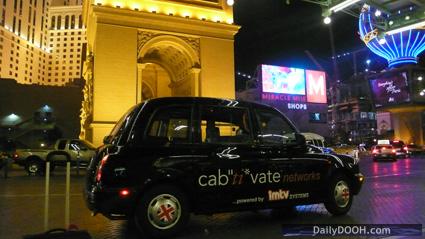 Since IMTV's investment in Cabtivate they have been doing a great job of drumming up interest in their activities, doing PR and generally being proactive in the industry.
In this instance (picture shown on blog) they have even gone as far as getting a London Black Cab / Hackney Carriage to Las Vegas for Digital Signage Expo!
We don't know that much about the American's love or interest for public transport (outside of the occasional use of a New York taxi cab) so not sure whether a US expansion would work or whether Cabtivate were just in Vegas at DSE thinking it was the best / good place to generally do some marketing.
It's Cabvision of course, not Cabtivate that has the contract with London's Hackney Carriages (the classic licensed London Black Cab of the type shown in Vegas by Cabtivate) but with Cabvision's habit of 'keeping their heads down' they are very likely to lose any association they have with this nation's capital and it's iconic Black Cab quite quickly if they have not already done so.
Fair play to Cabtivate for showboating what they are up to and what they are planning.