Russ Curry, Ministry of New Media
Hillenaar Outdoor has started selling 'TWINS Schipol', the first pair of two digital highway signs in the Netherlands. These double sided highway signs are located at a busy highway junction along the A4 near Schiphol and are offered together as a package deal.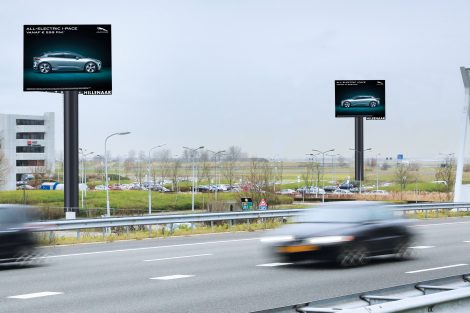 Hillenaar Outdoor already owned one of the digital highway signs along the A4, and recently took over the second one near by. The TWINS run synchronously and both highway signs are provided with two LED screens with a surface of more than 75m2.
Jeroen Hilllenaar, CEO and Founder, Hillenaar Outdoor told us "We want to make outdoor advertising interesting for as many parties as possible. Thanks to the first duo-highway sign the possibilities are endless. Advertisers can now make a two-parted campaign. The highway signs reach more than 3.4 million people every two weeks".
Hillenaar Outdoor has a nationwide network of more than 100 digital adshels, billboards and highway signs at high traffic locations and is growing fast. The out-of-home operator also possesses more than 170 digital TENQ-panels at high schools. With the addition of the TWINS Schiphol, Hillenaar Outdoor now owns digital media in more than twenty cities. Last month Hillenaar Outdoor already started exploiting a unique highway sign near Naarden, named the 'white tower'. Later this year a digital highway sign near Breda will be added to the network.