Adrian J Cotterill, Editor-in-Chief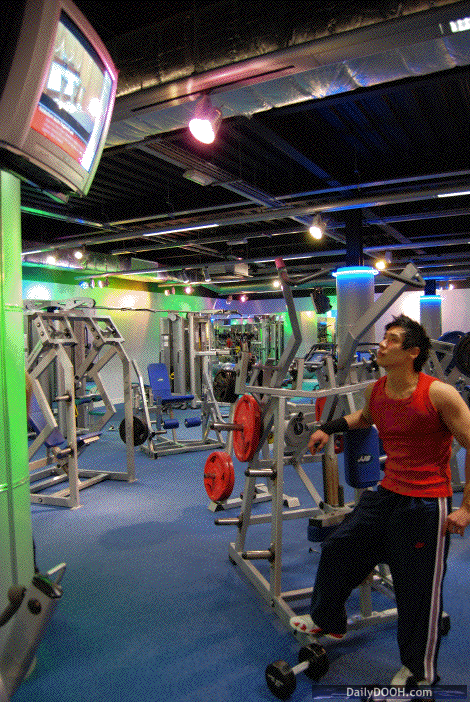 Gym Screen Media claim in their most recent press release to be "the digital screen market leader in the health and fitness environment"?
We guess it is all about how you measure market leadership and what context you put that in but I think we would have to disagree with that statement.
The HealthClub Channel owned by Clubcom (screen media sold by Boomerang Digital) has 330 gyms in the UK (including Fitness First, L.A Fitness, Topnotch and SLM-Everyone Active, plus a range of high-end independent clubs) with 850,000 members.
We remember from our time putting DOOHAN together that Boomerang Digital always discounted 20% of the membership base as dormant e.g. people signing up and not going to the gym before announcing footfall figures (do Gym Screen Media do the same?).
So, anyway based on a frequency of visits of 6.8 per month per member, the HealthClub channel's monthly footfall (and allowing for previously mentioned discount) is 5.7 million.
Gym Screen Media claim 270 health clubs UK wide (including David Lloyd, JJB Fitness, Total Fitness and Virgin Active) and state that they offer brands access to 1.2 million members, with a 7.2 million monthly footfall.
Interestingly we recently saw sight of the latest Sanex brand research (Sanex is a soap / shower gel that has run a number of campaigns in the health and fitness sector) that showed within the HealthClub Channel the average member visited 12 times per month (that might be like the sex surveys though – when asked? "oh yes 10 times a week" !!!)

However, monthly footfall based on 12 visits per month equates to a 10.2 million footfall. As we said it depends on who you look at and how you cut it?
On the Lucozade campaign that ran last year for example, we know that Boomerang Digital took UK PDS 300,000 in national sales whereas Gym Screen Media took approx UK PDS 80,000 – probably a fair ratio / representation we think on the superior product propositioning by Boomerang Digital of the HealthClub channel itself.
Bottom line we would have to say that the HealthClub Channel is the market leader – we believe that Boomerang Digital have made just over £450,000 net media revenue in billing so far this year and doubt that Gym Screen Media are anywhere near that figure.
Without wanting to labour the point, we would summarise by saying that the HealthClub channel have the number 1 fitness chain with the largest share of members and the largest estate and billings.
All that aside, we are talking about the UK here, Clubcom are the market leader in the World and across Europe, their screen channels are live in Germany, Spain, Italy, America, Australia, Japan, Russia and Dubai.
Boomerang of course (separate from Boomerang Digital which just does the screen + digital side of things) are incredibly active (and successful) in the 'wider' HealthClub marketplace for all traditional media in gyms.
Anyway, the press release as below goes on to explain some (long expected management changes) and record sales results for Q1 2008
We are told, and again it's not unexpected that the majority of this growth has resulted from a marked increase in their B2B sales to small and medium enterprises – that's a glamorous way of saying 'local advertising' to you and I !!
They are of course not the only network doing well with local sales, The Community Network has long relied on good local sales to fund its growth, and in Malls both Avanti Screenmedia and VMG are doing well with local sales initiatives.
MEDIA RELEASE

For immediate release; Thursday 3rd April 2008

Positive results and major moves at Gym Screen Media

Gym Screen Media have reported record sales results in Q1 2008 for their Digital Signage advertising offering in the health and fitness industry. The majority of this growth has resulted from a marked increase in their B2B sales to small and medium enterprises.

MD, Guy Bucknall said 'These numbers are a direct result of the plan put together and executed by our head of Local Sales, Sean Casey, after his appointment last September. He and his team have yet to miss a target and I don't expect them to miss in the future either'.

In line with the planned changes at the company, Bob Howells has stood aside as Chairman and the Board of Directors have appointed Terry Hancock as the new Executive Chairman. 'Terry's experience, particularly in Corporate Finance, Media and IT businesses really could not have been a better fit for this company and I feel very comfortable putting the reins in his hands' said the outgoing Chairman.

Also in line with the planned changes at Gym Screen Media, Tom Henderson, MD and founder of Gym TV Ltd, has moved into a consultancy role concentrating on the development of new networks. He said 'we have achieved what we set out to do when we first started the business nearly eight years ago. The company is now moving onto its next stage of growth and this is an ideal time for me to re focus back to what I enjoy most'.

Guy Bucknall, now sole MD of Gym Screen Media, said "These senior management changes are the final part of the plan for this stage of the development with Gym Screen Media. This industry is changing and growing very rapidly; fortunately, the board had the foresight to see this coming from a long way off and we have positioned ourselves to be a key player in the next phase of development in the Digital Signage industry". Bucknall added, "It has been a long, hard slog to get to this point but I am now extremely confident in us as a business and in our future growth".

– ENDS –

Gym Screen Media operates digital media screens in more than 270 health clubs UK wide (including David Lloyd, JJB Fitness, Total Fitness & Virgin Active), offering marketers access to 1.2 million members (7.2 million footfall each month). Gym Screen Media is the digital screen market leader in the health and fitness environment.
Photo courtesy of Dave Evans, The Lost Studios in Bury, Lancashire
Nota Bene. Grandiose claims in press releases should always be avoided – there will always be some smart*** who will contradict anything that is not 100% pukka or set in concrete!!