The Outdoor Media Association (OMA) welcomes four new members; AdFlow Mobile Advertising, Australian Outdoor Sign Company (AOSCo), Think Outdoor, and Total Outdoor Media (TOM), taking the total membership to 31 in 2021.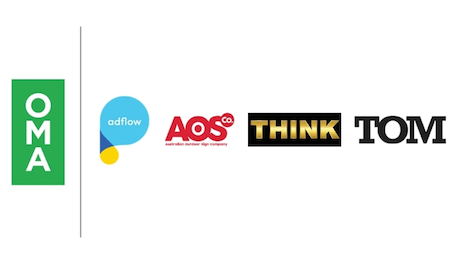 Two of the four members, Think Outdoor and AOSCo, also joined MOVE (Measurement of Outdoor Visibility and Exposure), the industry's Out of Home (OOH) audience measurement system.
Synonymous with taxi advertising, AdFlow joins the OMA as Australia's leading taxi media company, with AdFlow vehicles reaching audiences nationwide, in capital cities and regional centres.

Luke O'Connor, General Manager of AdFlow told us "AdFlow provides a fantastic platform in metropolitan and regional centres across Australia. Joining the OMA is one of our first steps in a big year of carefully planned transformation and development for our business. OMA membership is a natural fit for AdFlow and we are excited to be part of an industry-leading cohort that will drive OOH forward"

AOSCo, based in Brisbane, offers large digital signs in high traffic locations across the city, exemplifying the strength of Outdoor to be front and centre.
Based in Surfers Paradise, Queensland, Think Outdoor was established in 2012 and offers a network of large format digital and static signs, as well as an extensive cluster of small format signs along the Gold Coast.
TOM, based in Victoria, have premium large format billboards across regional Victoria and metropolitan Melbourne. TOM's sites are visible on major highways, in rural locations, and in high density gateways into Melbourne, including the St Kilda Junction.
Charmaine Moldrich, CEO, OMA said "The OMA is pleased to welcome our new members. We have a very clear and innovative program for 2021, which includes updating MOVE with a digital factor in the short term, while building MOVE 2.0, our new digital and national audience measurement system, that we intend to launch in 2023. Having new members join is an acknowledgment of the value the OMA and MOVE offers its members,".
OMA members fall into three categories — media display companies (media owners), non-media display companies (those who provide services to the media owners) and asset owners (those who own the signs). AdFlow, AOSCo, Think Outdoor and TOM all belong to the media display category.