Adrian J Cotterill, Editor-in-Chief
Wallbox N.V., (NYSE:WBX) a leading provider of electric vehicle (EV) charging and energy management solutions worldwide tell us that attendees will be able to discover Wallbox's latest charging and energy management solutions for the home, business and public segments in the West Hall 6627 of the Las Vegas Convention Center during #CES2022.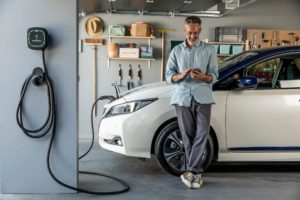 The company plans to showcase how it combines innovation with outstanding design to drive the transition to EVs and more sustainable energy use.
Eduard Castañeda, CPO and co-founder of Wallbox Tod us "We want to showcase how we are improving EV drivers' experience no matter where they are. As 80% of charging happens in the home, that's where we started – now we are using these insights to help EV drivers by offering the best suite of solutions whether they are at home, work or travelling around the country."
The company is part of the transportation and vehicle technology exhibit and is also expected to unveil its latest innovation, designed exclusively to meet the needs of North American #EV drivers during CES. This follows the company's successful launch into the U.S. market in 2021 when it launched Pulsar Plus, which became the number one best-selling EV charger on Amazon within three months of launch.
Wallbox has since launchedPulsar Plus 48 Amp, one of the fastest home chargers in the U.S. designed for next generation EVs, as well asEco-Smart and PowerBoost, Wallbox's proprietary energy management software for the home.
Enric Asunción, CEO and co-founder of Wallbox said "Aligned with our growth in the United States, we have significantly expanded our presence at CES 2022 and we plan to meet with new and existing partners throughout the course of the event.," said "Last year alone, we expanded into more than 20 new markets, bringing our products to over 80 markets globally".
Wallbox was founded in 2015 and is headquartered in Barcelona, the company now employs over 700 people in its offices in Europe, Asia, and the Americas.