Adrian J Cotterill, Editor-in-Chief
22Miles had a unique giveaway at their #InfoComm23 booth, namely a conversational #AI version of the tradeshow app, powered by ChatGPT.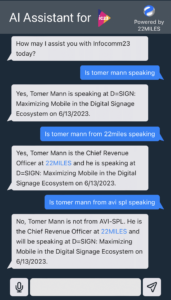 22Miles used publicly available event information and ChatGPT integration to create a custom conversational interface capable of answering questions about the event and guiding attendees to booths, meeting rooms, sessions, and special events. The web-based app, accessible via 22miles.ai or by scanning a QR-code at the booth, received the Best in Show award from Digital Signage magazine for the first-time exhibitor.
The 22Miles InfoComm app had a multi-lingual chat box instead of standard interface. Attendees could search using text or voice inputs, asking questions such as "Where is the 22Miles booth?" or "Is Elon Musk speaking at InfoComm?" The AI chatbot responded with related information, usually including a hyperlink to 3D wayfinding with turn-by-turn directions.
Larry Darling, Classroom Technology Manager for the University of North Carolina at Greensboro and co-host of the AV Superfriends podcast said "We found ourselves relying on the 22Miles app more and more throughout Infocomm 23," said . "The user experience was vastly superior to the official show app and allowed us to quickly access the information we needed to successfully navigate our schedules. We can definitely see this product being useful for our events teams on campus as they create the best and most accessible experiences possible for visitors to campus."
However, this was no mere tradeshow stunt: the 22Miles conversational interface is real and a currently available feature that can be inserted into any existing app. Current 22Miles SaaS customers using the company's Mobile 3D Wayfinding app can upgrade their experience with a GPT-powered chatbot today.