Alfaxmedia, the largest healthcare network in Hong Kong, has announced its exclusive partnership with Hivestack, the world's leading independent programmatic digital out of home #AdTECH company.
Lydia Yang, Founder and Managing Director of Alfaxmedia told us "Programmatic digital out of home (pDOOH) is undoubtedly the next big step in the evolution of the OOH media industry, as there is an increasing urgency to meet the demands of advertisers who seek data-driven ad solutions. We are very excited to be part of this game-changing development in the pDOOH industry by partnering with Hivestack, the global leader and pioneer in pDOOH. We believe that with their state-of-the-art technology, Hivestack's solution can offer significant value enhancements for both publishers and advertisers."
The partnership will offer brands, agencies and omnichannel DSPs the opportunity to purchase and activate Alfaxmedia's DOOH inventory programmatically across Hong Kong, exclusively via the Hivestack DSP and SSP platforms.
Alfaxmedia is a premium and well established multimedia network specializing in private healthcare media, covering over 200 prime healthcare locations and reaching over 380,000 unique visitors monthly. Advertisers seeking to reach targeted audiences visiting or in the vicinity of healthcare facilities will be able to leverage Hivestack's suite of planning, targeting and measurement capabilities to effectively deliver their campaigns and truly connect with their audiences.
Troy Yang, Managing Director, North Asia, at Hivestack commented: "We are thrilled to partner with Alfaxmedia who will exclusively use the Hivestack Supply Side Platform (SSP) to connect to our worldwide network of advertisers, especially within China, to drive new revenue from their DOOH inventory. Brands inside and outside of Hong Kong will now be able to use the Hivestack Demand Side Platform (DSP) to advertise their campaigns across Alfaxmedia's premium healthcare screens."
Healthcare media provides a crucial opportunity for brands to drive added reach and impact from their DOOH campaigns within highly trusted environments. Alfaxmedia plans to grow its network coverage by 20% in 2022, and will be available exclusively via the Hivestack SSP.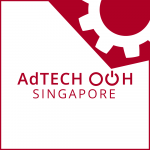 Industry veteran Ron Graham, and Founder & Managing Director of Media On The Go Pte Ltd, a Singapore based consultancy for OOH media in the Asia Pacific region will be chairing AdTECH: OOH – Singapore which takes place at the Marina Bay Sands on Wednesday March 30, 2022.
Registration is open and can be found here.