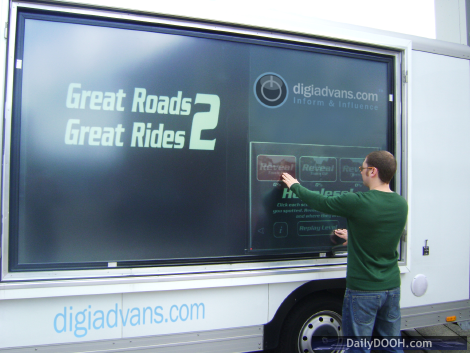 SA Screen Media Digital Advans, the folks behind DigiAdvans have some of the most comprehensive micro-sites detailing past campaigns that we have seen – so many in fact that we gave up a third of the way trying to plough through them all!
We like these vans and there's a couple of of things worth mentioning…
First company to go touch screen with mobile media
First company to incorporate audience measurement into the mobile fleet reading dwell times, OTS and gender recognition. They are we believe looking at advancing this to read age groups.
First company to take the mobile transportation fleet in the Bio Fuel direction. All of the SA digiadvans are now Bio fuel.
They have also been short listed for a couple of UK awards for 2009. Some of the awards are for the award winning Microsoft 'Im a PC@ campaign and we will be covering that in more detail later on.