The Outdoor Media Association (OMA) this week announced the winners of the Quarter Two Creative Collection competition for 2022.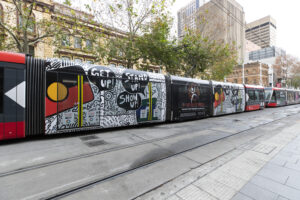 OMA CEO Charmaine Moldrich told us "This quarter we saw how an effective Out of Home (OOH) advertisement can start with a single good idea. This was exemplified in the NAIDOC campaign, Get Up! Stand Up! Show Up! which won the Out of Home for Good category and was awarded the Q2 Grand Prix. The OOH for Good category was introduced in 2021 to celebrate effective creative developed for a government body or charity/not for profit campaign."
There were 33 entries from OMA members including: GoTransit Media Group, JCDecaux, Motio, oOh!media, QMS, Shopper, Tonic Media Network, TorchMedia, Vicinity Centres and Val Morgan Outdoor (VMO).
Guest judges included:
George Exikanas, Executive Manager, IAG
Kirsty Visman, Managing Director, Superdream
Matt Bushby, Managing Director ANZ/ SEA, Hivestack
Sev Celik, Commercial Director, Tonic Media Network
"It can be a challenge to translate a piece of art into an effective OOH campaign, but the NAIDOC campaign on the side of trams was a perfect canvas! It was beautiful, eye-catching, and helped the joy of the message shine through," said Kirsty Visman, Managing Director at Superdream.
Matt Bushby, Managing Director ANZ/ SEA at Hivestack said, "For me, the Kayo Sports campaign and the NSW Department of Customer Service campaign are standouts as they used two of programmatic DOOH's best features: location and context. It is great to see brands thinking creatively about message combined with placement, and getting the most out of Out of Home environments."
Launched in 2013, the OMA's Creative Collection celebrates the big, bold, and audacious canvas that is OOH by recognising exceptional campaigns in each quarter. Campaigns are judged across the following categories:
Big, Bold, and Bright
Best Use of Multi-Format
Best Use of Digital
Innovation in Out of Home
Out of Home for Good