Adrian J Cotterill, Editor-in-Chief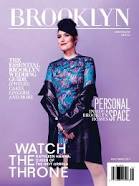 Brian Braiker is an award-winning journalist with 20-plus years experience writing, reporting and editing for an array of national and local media outlets; he was Editor in Chief at Ad Age, as well as spending time with Newsweek, Rolling Stone, Digiday, Adweek, ABC News, New York Times, Washington Post, Boston Globe and others.
For the past two and a half years he's been President, Editor-in-Chief of Brooklyn Magazine and this year he is kindly helping the Ministry of New Media and Yahoo's Global Head of DOOH Stephanie Gutnik kick off the AdTECH: OOH – New York Conference.
After the Chair's conference introduction Brian will be talking Publicis, with an interview at 09:30 with Publicis' EVP, Media Groupe Client Leader Rich Phelan and Publicis's Vice President, OOH Practice Derek Schaub.
Now in its 11th year, New York Digital Signage Week will take place October 10 – 14, 2022.
The week includes the DPAA VIP & Speakers Dinner, Digital Signage Federation Cocktails & Controversy, the DPAA Global Summit, the Sony Annual AV Tech Expo, The SiliconCore Lunch and Learn, OAAA & Geopath Cocktail Party, the IAB Brand Disruption Summit, AdTECH: OOH – New York, the first of the ADVERTISING Club of New York's "Conversations With…" Series, the Tin Building and Pier 17 ANC Tour, ANC Cocktail Reception, the XUSC Oktoberfest at Bierhaus, the Pepcom Holiday Spectacular, SMASHING IT: OOH + AV SOLOMON Partners Cocktails, a Vistar Media Drink Reception, the Advertising Research Foundation's Creative Effectiveness Event, the ARF David Ogilvy Awards Reception, the SEGD Branded Environments 2022, an exclusive SEGD welcome reception hosted by Electrosonic, the SEGD Xlab 2022 and much, much more!