Adrian J Cotterill, Editor-in-Chief
Grocery TV has acquired Mediaworks Advertising Solutions, a digital out-of-home network with sanitizer dispensers located in supermarkets across the U.S.— including Schnucks, Cub, and Lunds & Byerlys.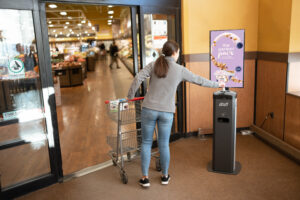 Mediaworks' sanitizer stations, which include a wipe dispensing base with a 32" digital display on top, will become part of Grocery TV's Entrance product line. They add a valuable touchpoint for brands to reach shoppers with dynamic video advertising, while helping retailers modernize the look of their stores and generate incremental revenue.
As part of the acquisition, Brian Swanson, president at Mediaworks, joins Grocery TV in a new role to oversee the transition of Mediaworks' business to Grocery TV and focus on expanding its retailer network.
Marlow Nickell, co-founder and CEO at Grocery TV told us "The Mediaworks acquisition is part of our full-store product expansion, which gives retailers and brands an all-in-one platform to reach shoppers throughout the store and at all stages of the buying journey".
Based in Minneapolis, MN—Mediaworks built one of the very first digital sanitizer stations and currently has an exclusive partnership with the leading sanitizer company, Purell. The company is one of the largest digital sanitizer networks through its retail partnerships with Schnucks, Cub, and Lunds & Byerlys. Brands like Yoplait, Jose Cuervo, and AT&T have worked with Mediaworks to get their products front and center with grocery shoppers.
Grocery TV is rolling out digital in-store media products for all major areas of the store, including the service department, center store, and pharmacy.
Terms of the deal were not disclosed.