Adrian J Cotterill, Editor-in-Chief
At #Infocomm23 last week EV Range announced that it is working with LG Business Solutions, LSI Industries and Broadsign on an integrated solution including electric vehicle chargers and charger station management software, with digital signage and advertising options.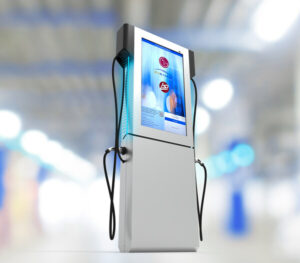 They say that the ChargeCast solution will help remove the complexities of integrating and managing chargers equipped with advertising displays and (they say) has the potential of opening up entirely new opportunities for hotels, restaurants, malls and charging destinations to further monetize, or run marketing campaigns at their electric vehicle charging stations.
Carl Pancutt, CEO of EV Range told us "EV Range was born out of the complexities associated with remotely managing, monitoring and monetizing electric vehicle chargers. Our cloud-based software and payment application is an industry leading charger management software solution. Working with LG, LSI and Broadsign is a natural extension of bringing an exceptional engagement and experience to both electric vehicle charger owners and the drivers that use them."
EV Range is described as a full-service, vertically integrated electric vehicle infrastructure solution and operations provider with their software and services are available to both consumers and businesses.
James Pfenning, Technical Sales Director at LG Business Solutions USA said "Supporting a robust EV charger market aligns with LG's focus on environmental sustainability, and we see the ChargeCast solution with LG's advanced display technology as a key player in that expansion. Working with EV Range and others to launch electric vehicle charger solutions that integrate LG's rugged, 55″ high-brightness outdoor LCD displays will allow drivers to consume useful, relevant and contextual content while charging their car."
Chadi Borghol, Director of Sales, Broadsign was quoted as saying "EV charging infrastructure remains a key hurdle to EV adoption, and we're excited to be working with EV Range, LG, and LSI on a solution that makes charging stations with ad displays simpler to deploy, operate, and monetize. The new ChargeCast technology will help increase the available inventory of chargers in North America and beyond to meet growing demand. At the same time, it will broaden advertiser access to the highly sought-after EV owner audience and help existing and emerging EV networks better monetize."
The ChargeCast solution was launched at InfoComm in Orlando, Florida, booth 1642.