It was announced today that this event which was to be held 5th – 6th November, Macau Tower in Macau and one that we had planned to attend has been cancelled.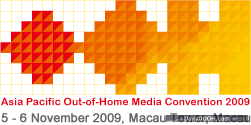 Ron Graham emailed to tell us that "With deep regret and my sincere personal apologies, I must advise you that the organisers of the Asia Pacific OOH Media Convention have decided to cancel the event"
He said "In the final analysis there was a great deal of goodwill but very low actual commitment for delegate bookings and sponsorships, which are vital to make this event viable. The cancellation is wholly a product of the difficult economic climate and significant pressure on expenses at advertising agencies and media owners".
See http://www.oohmediaconvention.com/