Adrian J Cotterill, Editor-in-Chief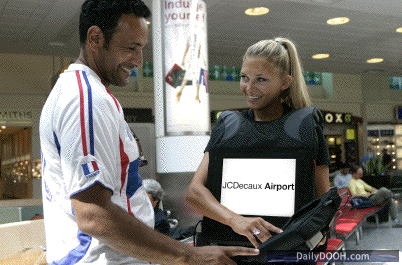 Investors' confidence has been shaken these last few months by the continued trials and tribulations of various digital signage and screen related businesses listed on the stockmarkets of Europe.
Good to see then that Adwalker (AIM:AWR), the specialist in wearable media solutions announced some good looking final results.
Turnover in the first 6 months of the current fiscal year up by 64% compared with corresponding period in 2006
Turnover for the year up 155% to Euro 1,599,645
Two year co-marketing agreement with eMusic.com
Generally, they have had quite a good year, they raised UK PDS £510,000 in a placing in May of course and also had a very nice product placement on the US version of 'The Apprentice'.
They are still keeping quiet about their trial with a 'well-known' FMCG retailer – and just for once I do NOT know who it is.
I just hate it when people do that. You either have the contract for a full roll out or the confidence that you deserve it and will get it, or you don't.
One of the good things you could always say about Avanti Screenmedia, at least under David Williams' leadership, was that they were CONFIDENT in what they did, what they won and what they were going to win AND announced to the world almost everything they were up to.
Trying to keep a wrap on a pilot – I assume because you feel threatened that someone else might come in there and win the business or ruin the deal – doesn't do the industry any good at all.
The stock price (AIM:AWR) is still in the doldrums – less than half of its 52 week high but anyway a nice set of results.