Adrian J Cotterill, Editor-in-Chief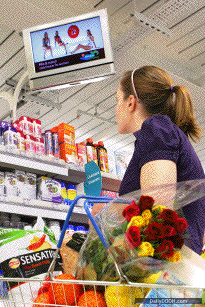 Along with the news I brought you last week about Tesco getting ready to publish their RFP for new screen suppliers it seems that fellow Grocer ASDA and petroleum giant Royal Dutch Shell also have public RFP's.
The Shell RFP has its roots in the Netherlands but they are looking to cover several countries in the rollout – including the UK.
United Screens in Germany used to have screens in 600 Shell Petrol Stations but these were taken out some time ago. Some of the folks from United Screens ended up at Smart TV Networks GmbH based in Munich.
Scala do have a small Shell Retail rollout in Norway – displays added for carwash advertising.
In the UK, the ASDA project is being run from their Media Centre.
Some of you will remember that back in September 2004 ASDA started a trial of instore digital TV…
The trials took place in its stores in Wembley and York.
Advertising suppliers included Nestle, Coca-Cola and Proctor + Gamble and the media at that time was run by Market Forward, part of media agency Publicis.
Asda's media centre, which is based near its head office in Leeds, is described as 'an independent body sitting between Asda and media owners, providing objective advice'.
I have heard a fair degree of cynicism from the industry on this RFP / Tender process (similar sort of feedback in fact from those who were involved in the BAA / World Duty Free tender process for LHR Terminal 5 late last year).
One comment from a vendor who not did not want to be involved in the RFP said "Pointless having an RFP as it is managed by Publicis who will win whatever happens "
However I have been told by an ASDA Media Centre spokes person that they "are currently examining the options that digital signage offers and as such have been in discussion with a number of companies in this field both from a hardware, software and complete solution offering"
He continued "We are only at review stage and have taken no decisions on if or how we may pursue the project at the current time".
I understand that there are three vendors currently discussing the RFP with ASDA.
Now that Tesco Screens (nee TV) is back on track and doing so well, what the industry could do with is (not another FreshTV debacle) but another grocer doing signage and a screen network correctly.
This RFP does NOT affect ASDA FM Live.
For those of you who don't know; ASDA FM Live was the UK's very first in-store radio station. It was launched back in 1992. The station broadcasts 24 hours a day to an audience of over 13 million ASDA customers and employees each week.
Statistically at least this gives the station more listeners than any other commercial radio station in the UK
ASDA FM Live is run by Teamtalk Broadcast.
http://www.teamtalkbroadcast.com/