Zoom Media & Marketing and CellWand Communications Inc., a leading provider of on-demand services for mobile phone users, this week announced a broad-reaching partnership to promote usage of the latter's #TAXI® (#8-2-9-4) mobile phone service.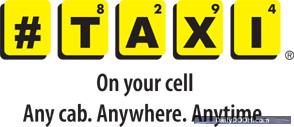 #TAXI – pronounced "pound taxi" – is an easy to use mobile phone application that connects callers to the first available local taxicab company. The service will be heavily promoted across Zoom's nationwide network of bars, restaurants and nightclubs, as a means of encouraging bar goers to make their last call of the night one that will get them home safely.
Dan Levi, Senior VP of Digital Media and Strategic Partnerships for Zoom Media & Marketing told us "Ensuring patrons get home safely is of critical importance to Zoom and our nightlife venue partners. #TAXI is an easy to use service that allows consumers to enjoy their night out safely, and Zoom is thrilled to partner with CellWand so our digital network and indoor billboards can be used to support such a positive initiative."
#TAXI uses its proprietary taxi database rating system and various technologies to quickly connect callers to the appropriate taxicab dispatch. #TAXI also avoids busy signals and connects callers to the first open dispatch, helping to avoid frustrating busy signals at peak calling times.
Supported by AT&T, Sprint, and Verizon Wireless amongst other wireless carriers in the USA, #TAXI is available to over 215 million mobile phone users. #TAXI is a pay-per-use service similar to 411.
The #TAXI campaign reinforces the Nightlife Industry's efforts to help patrons enjoy themselves responsibly, while also supporting the ongoing efforts of Mothers Against Drunk Driving (MADD) to raise awareness of the options patrons always have that allow them to avoid driving while intoxicated and to ensure friends and loved ones get home safely.
The campaign will be featured on Zoom's network of HD digital signage displays in the nation's top bars, restaurants and nightclubs, as well as on Zoom's indoor billboard network in the venues' restrooms. All campaign ads will highlight #TAXI's support of MADD.
Nick Quain, CEO of CellWand told us "With #TAXI now available through every one of the major wireless carriers in the USA, the partnership with Zoom and their nationwide nightlife network is timely and critical in being at the "point of need" for a service like #TAXI."
He added "#TAXI also allows nightlife venues to provide their patrons with an easy to remember and easy to use service that supports their efforts to promote responsible drinking while saving lives."
#TAXI is a national sponsor of Mothers Against Drunk Driving (MADD) and further supports their prevention message with inclusion in many #TAXI marketing messages such as this initiative with Zoom.
In addition to the ongoing promotion of the #TAXI service, Zoom and CellWand will work together to bring additional partners into the program and support MADD with other pro-social messaging programs.
#TAXI is available for $1.25 to $1.79 per call, depending on the wireless carrier and takes no money from taxi companies.
About MADD

MADD launched its Campaign to Eliminate Drunk Driving in 2006 and it entails advocating for more law enforcement, interlocks for all drunk drivers, development of advanced technologies and grassroots support. MADD's mission is to stop drunk driving, support the victims of this violent crime and prevent underage drinking. MADD is a 501 (c) (3) charity with approximately 200 offices and 2 million members and supporters nationwide. Founded in 1980, MADD has helped save more than 270,000 lives.