Gail Chiasson, North American Editor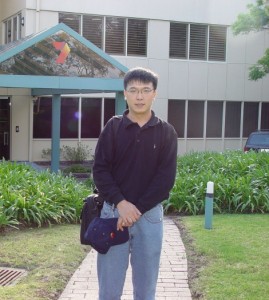 As associate account director and 'digital champion' in Hyperspace China, Ian Bi is responsible for building Heartland-Posterscope's digital leadership in the DOOH sector by delivering knowledge, insights and best practices to help clients fully understand its potential, while working to present innovative DOOH solutions for clients' marketing initiatives.
Describe your personal work space.

A desk in the Hyperspace section with my massive Thinkpad laptop, telephone and some necessary stationery. Some 3D painting printouts stick in front of me. I sit right between Henry and John, my Hyperspace colleagues. It is quite convenient for the frequent Hyperspace team discussion.

Currently, Heartland is located in a big office tower. The view from our windows is of the other building of the twin towers. However, we expect to move to a more creative spot after Chinese New Year and we will have a more spacious and flexible working environment then.

How do you get to work?

Out of extremely high volume morning traffic in Shanghai. Most of time, I go to office by metro, it takes me around 35 minutes; I drive occasionally. Then it's about 20 minutes.

What is an average day like?

I will first check messages from Ben and Adam, other Hypersapce colleagues, then spend several minutes on Heartshare for what's going on around the globe. After that, I start to work on SOS briefs (urgent assignments from the account team or sister companies for help needed within a day) and regular work-in-progress, and attend meetings. Around 5pm-6pm, I contact Adam in the London office to discuss any issue at hand and am ready for always-coming last minute work. I also spend considerable time visiting clients, agencies and media owners for presentations and interviews.

What is essential for you being able to work happily?

The 50% plus probability to make things happen.

How flexible are your working conditions?

You can work as flexible as you wish as long as you have access to Hyperspace online resources.

What do you think your employer looks for in its staff?

150%, if not 200% above your own expectations.

What suggestions do you have for your company?

To be more specialized, more focused and more aggressive. To invest more in the digital future.

Do you have any frustrations you would like to share with us?

Not every client welcomes innovative solutions and listens carefully to a specialist.

What do you like best about your job?

Working with something innovative and new; always keeping one step ahead of the rest of the industry.

How open is your company to new ideas and suggestions?

Nothing is impossible.

How much responsibility have you been given?

Besides supervising the digital leadership plan, key account clients assigned, and innovative Hyperspace projects, I am responsible for handling all surprise briefs in the morning and last minute SOS work in the evening – which should be done by TODAY, for sure.

How green are you and your company?

We have done everything for 2010 that we can imagine and to make sure 2012 – Doomsday for mankind and earth according to the ancient Mayan prophecy – is another normal year.