Hall 12 was once again the main digital signage area of ISE and was heavily traffic'ed via a main thoroughfare between halls.
C-nario, Scala and DISE had the three main spots along this thoroughfare. C-nario stationed their CTO Avishay at the front of the stand on the right hand side (as you looked at the stand) to scare off any potential partners.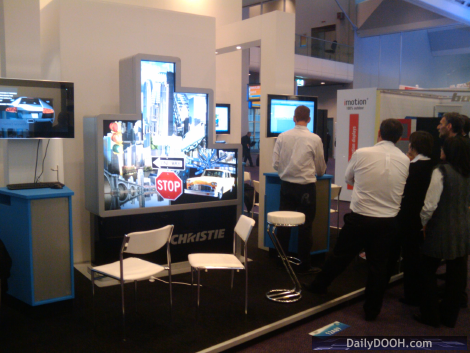 The stand was of a high standard as it was last year. The front was their own attempt at getting creative with a video wall with screens in portrait and landscape all linked together. Apart from the bezels it looked pretty good actually and they had some interesting interactive applications running on it including an Xbox game.
Some of the content was actually quite good but some also 'sucked' so their was no sense of a brand coming through anywhere.
C-nario in their infinite wisdom chose to put the MicroTiles display that Christie DIgital lent them around the back of their stand (picture shown above, note it's a _4X5_4T_4T_3T1H_HTTH_HTHH_ – i.e. Arsenal Media's 'skyscraper') and then proceed to plonk a table and chairs in front of it and then flank the beautifully made display enclosure with two ugly landscape LCDs complete with cables hanging down.
Anyway, C-nario are good supporters of this event and undoubtedly had a very successful show.