Adrian has already briefly written about Omnivex, he said recently "Omnivex to our mind have made tremendous progress, both with their business at home in North America / Canada and abroad and are a real 'cert' for inclusion somewhere in the list" and having personally spent some time with them myself, I'd like to look in a bit more detail at what differentiates them from a lot of offerings in the industry.
A friend of ours from a well-known display manufacturer, forming partnerships with signage and media playout companies, says he always asks "your software can do playlists and scheduling like all the others, right? So why is yours any better?"
The Omnivex approach is very much rules-based and data source driven, which means they don't really do playlists in the way that most people think of them. Instead, decisions about what content to show where and when are made by defining simple rules which can act on a piece of incoming data. This means the media player at the end of the chain takes the rules, data and content, and effectively constructs its own live playlist.
We touched on this installation recently in the run up the the Winter Olympics, but this is a specific example in one part of the Omnivex system at Vancouver Airport. The system is linked to a flight arrivals database, so that the wayfinding and baggage reclaim screens are set to automatically show content in both English and Chinese if the next flight arriving is from Hong Kong. As long as the rules and processes are plotted out comprehensively and methodically, a system can be built up to react intelligently to give out the most relevant information to the people in that environment.
This use of data feeds is taken further in their Moxie product. They have nicely subverted the well known mantra 'Content is King' and changed it to 'Context is King' to reflect the fact that not only can different content be played according to data-based rules, but even elements in graphic compositions can be changed by events.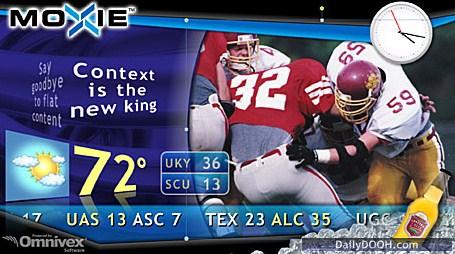 It's a bit like the system changing design elements in a multi-layered Photoshop graphic file according to incoming live data. For example, if a sports event score reaches a certain amount, the display can change to make the score grow to a larger size on screen. When the design is being created, elements can be linked to particular pieces of data, which can include interfaces like push buttons (think museum displays), or movement sensors (think products in retail displays).
This flexibility goes some way to explain why Omnivex's customers cover such a wide range of industries and applications. What we also like is that the rules-based and data way of thinking means that you focus on what you want to happen, and why you want it to happen right from the start of a project, rather than concentrating on the media itself and how to schedule and playlist it.
#DSTop10 posts are kindly sponsored by Magenta Research