Adrian J Cotterill, Editor-in-Chief
If you are exhibiting at #ScreenMediaExpo and looking to hire then Steve Morahan at DOOHjobs may just have the deal for you.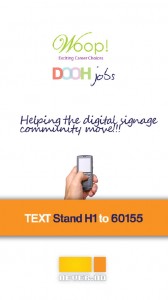 Steve tells us that to mark DOOHJobs recruitment surgery, in association with WOOP!m they are offering exhibiting companies a complimentary job posting credit on www.doohjobs.com
They have a limited number of credits worth GBP 95 each to give away to organisations who are looking to recruit.
All requests recevied before the show will not only be displayed on the site but also on the screens on the stand!
To receieve your credit email s.morahan@doohjobs.com as soon as possible.
Note the bespoke graphic that Steve is using (shown to the right here) to advertise never.no's TextTheStand service 'Text STAND H1 to 60155' on the screens on his stand.