Gail Chiasson, North American Editor
This 20-minute nightly Light Show performance of the Rhone-Alpes pavilion in Shanghai that presents an artistic night landscape highlighting the Expo 2010's's theme of 'Better City, Better Life' reminds us somewhat of the multi-media projection in 2008 celebrating Quebec City's 400th anniversary. (See our June 28/09 article.)
Christie, a global
leader in visual solutions for business, entertainment and industry, is extensively participating in the Rhone-Alpes pavilion in the Urban Best Practices Area at Expo 2010 Shanghai. More than 30 Christie visual projectors illuminate the innovative Light Show, a highlight of the event.
Christie has left an impressive footprint in China in recent years including the opening and closing ceremonies of the 2008 Beijing Summer Games and the performance of the opera Turandot, held in Beijing to commemorate China's 60th anniversary in 2009. Since 2007, the company has been the visual solution sponsor for 'The Path to World Expo – Introduction to World Expo Shanghai 2010 China and the Retrospection of the World Expo History' exhibition held across China, Hong Kong and at the United Nations headquarters in New York, attracting more than a million visitors from around the world. (Also see our Jan. 17/10 article.)
The Rhone-Alpes pavilion 'Lighting Cities' showcases energy efficiency and sustainable design. It uses an energy-efficient and environmentally-friendly illumination system to light up selected areas in the UBPA site. Together with the Christie visual solutions, it forms 'Light Show', an exciting exhibit filled with striking visuals depicting urban living.
Working with its partner in China, Wincomn Technology Development Co. Ltd., Christie installed 20 Christie LX505 projectors that project visuals onto different parts of inverted umbrellas, forming two ribbon-like displays. Five sets of the world's brightest digital projectors, the Christie Roadster HD35K's, are placed in front of the power plant to present a seamless display 150 meters long by 16 meters high onto the façade of the building.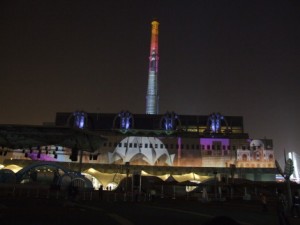 Completing the Light Show, a brilliant chimney-effect projection is achieved with six sets of Christie Roadster S +20K DLP projectors. The projectors – which were used for the 2008 Beijing Summer Games – offer edge-blended images from the smallest form factor available at greater than 20,000 ANSI lumens. Elevated at various angles, the digital projectors display one of the world's tallest single images.
At the World Plaza area, near to the Rhone-Alpes pavilion, a ceiling-mounted Christie DS+10K-M projector also displays interactive content onto the ground, in which visitors can immerse themselves.