Adrian J Cotterill, Editor-in-Chief
The #InfoComm2010 Blogger Lounge is in the LVCC, in the main area between the big halls and attached to the InfoComm main show booth.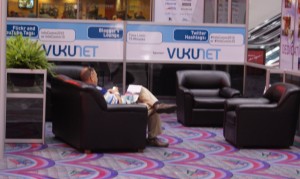 As usual there is comfy seating, glass walls, free WiFi and there will also be some NEC 70 inch screens in the main hall (not in the blogger lounge itself) which we hope will be running Tweets.
Thanks to NEC Displays and VUKUNET for sponsoring, it's perhaps a 'tad' small and we cannot help thinking it is slightly underwhelming (very similar to the Muzak sponsored Blogger Lounge at DSE2010 back in February) but it's a place for bloggers and we will be using for sure.