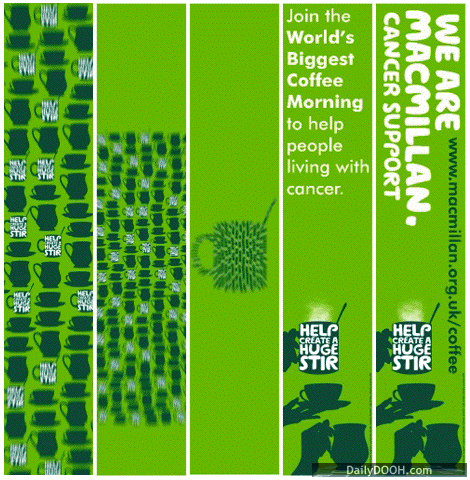 It's great to see the photos coming back this week (and last) from the UK networks who signed up to support the Macmillan WBCM '08 Teaser Campaign. We are very close now to our target of 30 digital screen media networks and have everyone from the very large to the very small – all is now set for the campaign proper to start 1st September 2008 – again this will be the largest cross network brand campaign in the UK ever!
As digital agencies working on DOOH creative know, developing ad campaigns and content for BOTH retail and high impact environments pose their own sets of unique challenges.
We particularly liked the way that the Macmillan green stood out well against the orange walls of the Thomson Travel Agents for example and as the above frame sequence and photo below illustrates, how well animation and vibrant colour also work for the huge 19m x 3.6m City Gateway Media skyscraper tower in Manchester. We hope the main campaign creative will work as well for the other large format digital billboards that have confirmed their airtime donations.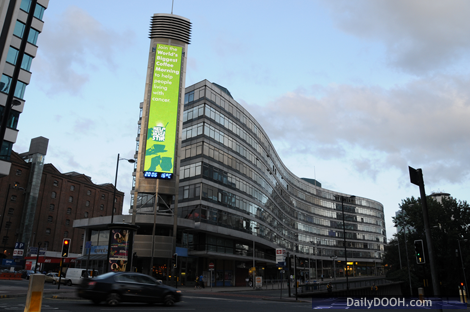 Amigo Digital have already booked a – DailyDOOH Showcase – slot towards the end of September in order to showcase all of the retail, captive audience and high impact network Macmillan creative and executions so, as usual, watch this space!