Gail Chiasson, North American Editor
Keith Nilsen is the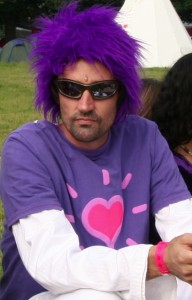 digital outdoor network manager, Clear Channel Outdoor UK, London, with responsibiity for the comany's digital products
Describe your personal work space.With the multi-screen set-up I hide behind – a main workstation, scheduling system and test platform – my workspace has been likened to the bridge of the Enterprise in 'Star Trek', albeit one completed on a budget! I WILL get standardized screens on slick chrome swivel arms one day! The rest of the space is a fairly good exercise in paperless minimalism.
How do you get to work?My commute begins in leafy Richmond on the outskirts of London. A short walk to the station and onto the underground and I am at work in Piccadilly in central London 45 minutes later. Nice and easy.

What is an average day like?My rather unique role involves daily contact with Clear Channel sales, marketing, IT and operations teams, as well as with clients, creative agencies, and content developers – so average doesn't come into it. I wear enough hats to make Philip Treacy envious!

All my professional socializing is done in coffee shops during work hours, largely because I don't drink and have a wonderfully funny baby boy to get home to! Whatever other work needs doing out of office hours gets completed at home.

I love being outdoors but being African born and raised has set me with certain acceptable temperature parameters. The unpredictable English weather has therefore dictated my out-of-hours activities – namely power-kiting when the sun is out and online gaming when it isn't. As a result I am very good at online gaming and less good at power-kiting!!

What is essential to you being able to work happily?The fact that my role is very autonomous allows me to just get on and get things done – which is basically the key to me working happily.

I don't get to play as such – but I do get to meet a hugely varied bunch of very intelligent and creative people across all disciplines of digital – and it is these people that keep me sane!

How flexible are your working conditions?I am that type of overly committed chap who insists on having the full capabilities to manage our digital assets from my home – but I think my old-fashioned colleagues like to see my pretty face in the office every day! Hopefully they'll realize that it is for the best to NOT see me sometimes!
What do you think your employer looks for in its staff?We have a collaborative and flexible culture at Clear Channel and look for people who are team players but who not afraid to share new ideas, whatever their level.
What suggestions do you have for your company?As we continue to expand our digital portfolio into different environments, we need to continue to work across all departments to ensure we deliver an integrated offering for our clients. Content is not king, communication is!
Do you have any frustrations you would like to share with us?I am frustrated that so many clients/creatives tend to only consider digital content almost as an afterthought to their advertising campaigns, and as a result they are often forced to adapt static print creative for the digital element of their campaigns. This is NOT what screens are best at – so can we use outdoor advertising screens more intelligently please, with more lead time to develop the necessary assets.
What do you like best about your job?I love helping clients understand the potential that can be unlocked from well considered digital advertising. I also love being fully aware that the digital aspect of outdoor is still in relative infancy and that the most exciting developments are still to come. That classic oft-referred to 'Blade Runner' scenario might still actually become a reality within my lifetime – here's hoping!
How open is your company to new ideas and suggestions?In my somewhat biased opinion, Clear Channel – and especially the collaborate team – is at the forefront of developing new and engaging creative solutions in the outdoor advertising market. We were first to market with intelligent screens linking dynamic campaigns to social media online (for Beck's) and more recently installed true 3D screens within bus shelters (for Twentieth Century Fox to promote 'Percy Jackson & the Lightning Thief').
How much responsibility have you been given?I think significantly more than anyone thought when I first started within this role. The digital landscape has altered significantly in the last few years and my responsibilities have increased by default. When I DO stop and take stock of what I am actually responsible for delivering to our clients, I do a quick double-take – but I seem to have remained sane throughout despite everything!
How green are you and your company?For the last three years we have been named one of the UK's Top 50 Green Companies by 'The Sunday Times' – a tremendous accolade and one of the many awards we've won for our sustainability commitments.

On a personal basis we recycle everything! My young son has taken this to a new level where he picks up rubbish in the park and will not relinquish it until he finds a bin!! Very green, and we're very proud of instilling that in him already!