Adrian J Cotterill, Editor-in-Chief
Interactive posters at bus shelters, digital games on poster sites, a Gadget Show 'studio' at a bus stop and a giant 2D image of Gadget Show TV Presenter Suzi Perry towering over the city were all among the futuristic techniques deployed by Outdoor market leader JCDecaux to turn Manchester's Piccadilly Gardens into a Gadget Show Zone.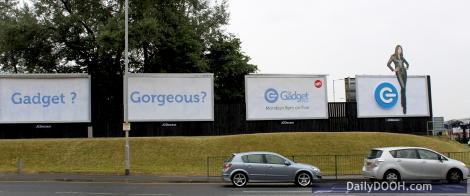 In Manchester on Monday 12 July the public were invited to interact with the campaigns and try out a state-of-the-art 'Augmented Reality' poster site, in the first use of the technology on the street.
The public were invited to hold up cards to a bus shelter poster to generate a virtual Suzi Perry in the palm of their hand. The public were able to download a video of Suzi by using Bluetooth onto their mobile phones from the digital poster.
Sam Bird, Director of Creative Solutions at JCDecaux told us "Outdoor advertising suits the way we live our lives today – because we spend 53% more time out of home now than we did 14 years ago, commuting for longer and socialising more. As this showcase demonstrates, advances in technology have brought Outdoor closer to the world of "The Minority Report' with the advent of interactive posters and cutting-edge technology such as 'Augmented Reality'."
Manchester's Piccadilly Gardens also featured: a double-length bus shelter that served as a virtual Gadget Show studio for the day. Fully wrapped in vinyl with studio scenes, the seats featured red cushions, replicating the series' iconic red sofa and a special 'opinionator' enabled the public to vote which presenter looked the best in a catsuit, via an interactive touchscreen.
Other highlights included: 3D posters, a gaming and giveaway zone with an interactive pairs and jigsaw game on touch screens.
Bus shelter posters also dispensed gadget show mints and branded mousemats could be peeled off and taken away.
Banks of phone kiosks and the large digital screen at Manchester Piccadilly Station were Bluetooth-enabled to enable downloads of special Gadget Show videos.
The result of the challenge (and judging criteria) were kept wraps until the TV show aired on 2nd August on the UK's Five channel but Suzi Perry was a deserved winner.