Gail Chiasson, North American Editor
Queuing customers in long waiting lines Is easy with the help of Phildelphia-based Q Systems, a convergence between digital signage and a user-friendly touch-screen interface.
Q Systems works by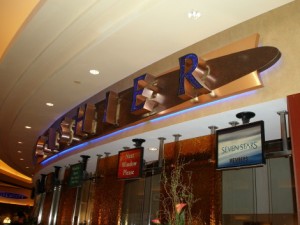 displaying attention-grabbing, motion graphic messages on digital screens, controlled by a touch-screen interface, which direct or queue customers into the appropriate lines for service. Although the Q System was initially designed for casinos, it can be applied in many other public places.
Several casinos have already switched to the Q system including Harrah's Resort Atlantic City, Firekeepers Casino in Michigan, Showboat Casino in Atlantic City, Empress Casino Joliet in Illinois and Hollywood Casino at Charles Town Races. At Michigan's Firekeepers Casino, cage cashier managers claim that the large touch-screen interface makes it so simple to change a message that they were using the system after about five minutes of training.
The Q System is delivered as a complete turnkey package including the Q Controller, Q Touch Screen, Q Message Monitors, Cabling, Installation, Training, Warranty and Custom Motion Graphic Messages. Additional options include a Services Agreement for ongoing support, a choice for sizes and quantity of digital screens, customized enclosures for the digital screens and the hand-held iQ remote controller for changing sign messages.
"One of the greatest things about the Q System is that it can be installed anywhere in the world and in less than a day," says Taylor Hightower, developer of the Q System software, and head of Hightower Systems. "We've had many inquiries since our recent launch and our team is ready to begin rolling out the systems. From casinos and supermarkets to museums and amusement parks, applications for the Q System have apparently become endless."
Q Systems was launched by Hightower in 2009. SPI, Kutztown, Pennsylvania, has partnered with Hightower to market and sell Q Systems.