Adrian J Cotterill, Editor-in-Chief
Looks like the Bullring shopping centre in Birmingham has become something of an advertiser's paradise following an AV makeover at the hands of Ram Vision and PSCo. The mall now features some nice new digital solutions all with high end finishing which seem to have dramatically changed the aesthetics and feel of the mall.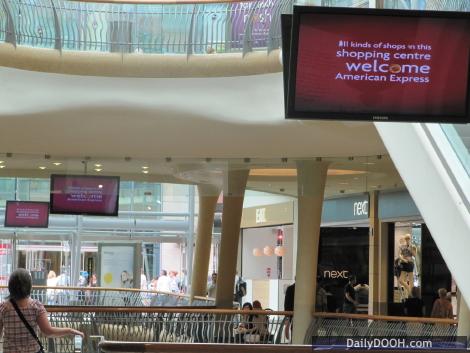 A 103" Panasonic plasma is the crowning glory of the installation located behind the information desk and positioned so that it can be seen from all three floors of the mall.
A whopping 21 x 63" Samsung screens, 2 x 42" Samsung screens and 6 x 42" HD Samsung screens have also been installed spanning the 100,000m2 of retail space.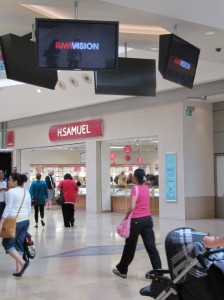 Paul Masterson, Ram Vision's Commercial Director told us "We replaced all the plasmas to bring the AV system up to date with brighter screens and we also expanded the AV network into new areas of the mall to generate a greater reach for advertisers and potential revenue for the centre."
New areas include the lift lobbies where 6 x 42" Samsung screens were installed between the lift doors, behind glass and recessed into the wall by the pay station.
The screens were provided and installed by PSCo's Special Project's division working alongside the Bullring's technical team and Ram Vision to coordinate activities and requirements.
Ben Darji, Bullring's Network Manager told us "We decided to update the AV system throughout the centre because the screens we had before were over 7 years old and starting to look very dated. From a business perspective we need screens that stand out and look appealing to encourage advertisers that this is the right platform for their messages".
He added "Overall the project was brilliant and we are already engaging in discussions with Ram Vision for additional digital proposals. From an installation perspective we had confidence that the PSCo team would deliver. They were great on-site, very competent and had clearly done their homework."