Adrian J Cotterill, Editor-in-Chief
We are seeing more and more interesting digital installations being used as TV backdrops. Here we see a number of Orion OPM4250 displays configured (Salitek, the distributor of Orion videowalls described to us) as a 2X5 curved wall and a 5X2 straight wall custom mounted on structures from RP Visuals.
Without wishing to bang on about how AV folks often confusingly describe video walls, the 2×5 curved wall (they mean 2 high and 5 wide) and 5×2 straight wall (they mean 5 high, 2 wide or two columns of 5 side by side) is (we think) much more accurately described (and importantly, looking forward: 'machine translatable') using the Issy-Neale formula as _5X2_5T_5T_ and _2X5_2T_2T_2T_2T_2T_ respectively.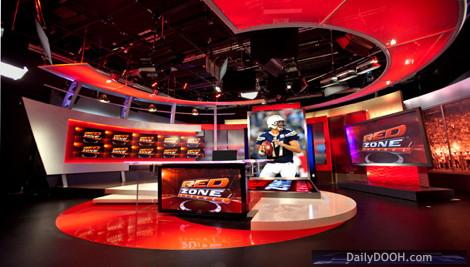 Vince Schuster, Salitek president told us "Working with DIRECTV and BDI on this project has allowed Salitek, the distributor of Orion videowalls, to further validate the versatility of the Orion MPDP".
The installation was for DIRECTV's NFL RED ZONE CHANNEL®.