Adrian J Cotterill, Editor-in-Chief
We first put together a list of the Top 10 Digital Signage Software Vendors back in December 2007 (in two parts, as it needed some initial explanation; Part 1 here and Part 2 here) and continued producing an annual list up until 2013 when we stopped (or should I say "paused") – figuring it had somehow outgrown its usefulness.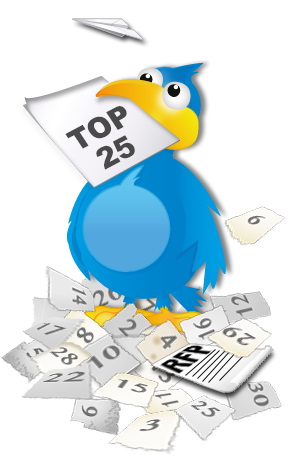 However, we did promise at that time, that our next attempt at a list would involve more of a breakdown by vertical sector and that is what we have done here (to a degree) – rather than have a separate top five or  six per individual category (for example; DOOH, FIDS, billboards, video walls, corporate communication, education, retail, stadiums etc., etc.) we've listed (yes, in order) vendors who we've met and have gone through their products in some detail and / or products that we've actually used on real-world projects, and attempted to sum up the sectors we think they are best suited for or indeed, aimed at.
With a 1,000+ me-too digital signage software products out there (see our full list in The Software Holocron here) this is a starting place for your next RFP (and please, if you are considering writing another piece of digital signage software don't!!!). No list is going to be absolutely correct, nor will everyone agree with our rankings but as we said back in 2007, it's a start and needs to be done.
Our Top 25 Digital Signage Software Vendors in order (with 2013's #DSTop10 position in parentheses), is as follows: -
BroadSign† (1)
Many people, including us, in the past, have tended to dismiss BroadSign as a one trick wonder – focussing purely (as they have done very well) on Ad Based Networks (they of course won the JCDecaux business back in 2011) but we've seen of late a number of wins in retail and some great installs in an area that we ourselves love working in, that of corporate foyers, atriums and reception areas.  If you aren't an Ad Based Network or Media Owner then there is no longer any reason to ignore them.  We think BroadSign is starting to fit the bill no matter what your Digital Signage network needs are.
STRATACACHE† (2)
It's hard to ignore any vendor that can boast of some of the very largest digital signage networks out there and when that is coupled with demanding brands such as McDonalds you know that someone sensible has done their technical due diligence well.  Whilst we wouldn't use STRATATACHE for a large video wall install, Ad Based Network or in education (not niched enough for the first two and probably 'overkill' for the latter) for any really big network involving Stadiums, Retail, Retail Banking, Corporate Communications or QSR they would be a good candidate.
Ayuda Media Systems† (5)
Here's a company that has a nice vertical focus AND is very likely going to stick to it.  When they started they focussed purely on Out of Home – building very, very clever ERP software that managed the huge traditional inventories of the largest OOH Media Owners across the world – all the while adding in clever digital elements to their offering.  Whilst BroadSign will most likely add to the sectors they play in – Ayuda will concentrate on the area they know best.  Both strategies have merit and it really is A vs B if you are a media owner looking for a software platform – your choice is simple, you either want a top to bottom, souptonuts solution in which case you will choose Ayuda or you want a digital signage software solution that you will do your own integration around – in which case you choose BroadSign.  In this vertical, a decision is very easy.
Signagelive† (4)
Jason Cremins and his team continue to punch well above their weight.  Here's another company that plays extremely well in almost all of the verticals you can image – you could call them the swiss army knife of digital signage. Jason probably had far too much of a love-in a few years back for Samsung but he is one of the only industry CEOs who has seemingly got his cloud software strategy spot-on – deals with Samsung for SoC were followed by support for LG's WebOS and Google Chrome OS and (hats off) he also got the hang of open source very early on.  His vision and his strategy will drive the business to new heights and we'd thoroughly recommend Signagelive for use in retail, QSR, hospitality, video walls, education, corporate communications and transport. Watch out for them to be one of the first to really get the hang of the 'apps' marketplace.
Scala† (6)
Scala still has the best known brand out there in the industry. It is rightly the first software vendor that is chosen and written down, no matter what the RFP is for.  It's a jack-of-all-trades and (still) master of most of them.  Caveat: despite it being the software that runs more digital billboards in the world that any other vendor we still wouldn't choose it for an Ad Based Network – the investment in the ad technology that was needed to keep up with the likes of Ayuda and BroadSign just wasn't there.  However, for perhaps EVERY other industry vertical you can possibly think of, it would be in the top three of any list. We use it a lot ourselves for our big video wall projects. Whilst, the current leadership and its board seem to see it's focus and future being in retail, it is hugely popular in QSR, Employee Communications, Hospitality and Education.
Amscreen†
Proving that you no longer need to be a die hard software vendor to play in this space; Lord Sugar's Amscreen – ostensibly an M2M acquisition that turned into a media company but is fast becoming one of the most important solutions providers in the UK has a major role to play in ad-based, retail , QSR, hospitality and corporate communications.  Unlike many of the software vendors here, Amscreen Digital Solutions can provide a full turnkey solution, offering a one-stop shop of hardware, software, connectivity, operations and even 'media' if you want it. If more of the Digital Signage Software vendors operated like Amscreen they'd all likely make more money.
Barco's X2O
We've always loved Montreal based X2O and we've loved it even more since it was acquired by Barco.  X2O was always our favourite vendor for corporate communication style installs – especially anything involving the boardroom!  Pre-Barco acquisition, X2O always had a few hidden gems of installs of its own – some big retail and some hospitality rollouts that were either kept quiet or simply not publicised BUT with Barco behind them now we have seen a lot more product marketing emphasis on both the retail and advertising sectors.  Whilst Barco continue to push the product at running large billboards – quite simply something we would NOT do, the solution is perfect in retail and TRULY EXCELLENT in corporate communications.
NEOCAST† (from Real Digital Media) (3)
Ken Goldberg and his development team have continued to beaver away down in Florida creating one of the best software solutions for QSR and Digital Menu Boards.  they've also (bizarrely – especially considering our earlier comments on A vs B) got a pretty good handle should anyone need a third opinion on Ad Based Networks.
Net Display Systems PADS†
PADS is the best solution for Flight Information Display Systems (FIDS) and probably the most widely used as well BUT but its also good for corporate communications and of course (because of the FIDS connotation) pretty handy at Video Walls.
ONELAN† (7)
Great for education, good for retail and they've been busy innovating around room reservation as well.
RMG Enterprise Solutions† (nee Symon Communications, Inc.)
Symon is back!  Well nearly anyway.  Pre-RMG Networks acquisition, Symon were the undisputed king of the contact centre and had an edge on many in corporate communications.  A confused takeover meant that good management and staff left and they lost their way.  With newly promoted to CTO, Rick Mattock now fully in charge, watch out for them to do what they should always have done = focus on corporate communication software like no-other!
YCD Multimedia (8)
YCD were pioneers in retail (and it's not often you can say the word 'pioneer' in our industry with a straight face) and pushed the boundaries in how digital merchandising could be managed (and more importantly reported) with products like RAMP. With the acquisition of C-Nario in 2011 they also got hold of one of the early go-to companies in software video wall installations.  We'd happily recommend them for retail, large billboard and complicated video wall installations.
Four Winds Interactive (10)
Often accused of arrogance, FWi have actually built a nice business focussed initially in the casino and hospitality sectors but have more recently branched out (yes, their is a pun coming) with Retail Banking and retail as a whole.  FWi are one of the better full solutions' providers out there – offering as they do content and network management as well as just software.
Adflow Networks
Adflow could do more to advertise some of the great stuff they do in Canada and parts of North America.  We'd use 'em in retail and they seem especially good at kiosk interactions as well.
DISE†
Swedish based DISE have a great business in retail in Asia but are much less known it would seem in Europe.  They are the masters of Digital Escalator Panels (DEPs) and we would thoroughly recommend them for complicated video wall installations as well.
Reflect Systems
Dallas based Reflect Systems have quietly gone about building up a solid business.  Rumour that they are about to acquire others won't go away. Like FWi they've also built up a nice business in hospitality and in retail.
Omnivex (9)
Managed most of the time, it would seem to us, that they are just itching to be acquired by Microsoft (wouldn't we all?), here's a company that continually undersells itself.  They have some mighty fine deployments around the world and one of the leaders in data-driven large scale video walls.
Navori QL†
Bigger perhaps in North American than in Europe, Swiss based Navori, despite struggling with Francogeddon, have continued to make strides in retail, education and wayfinding.
Nanonation
Think Kiosks, think Interactive Digital Signage, think North America and you've got Nanonation.  We also like their creative arm but have yet to see them deploy systems anywhere outside North America (to be fair, that is true of many of the vendors on this list)
Hiperwall
We've still only ever met one employee – the CEO Jeff Greenberg (he seems to be the ONLY one who ever mans exhibit stands) despite having been to their Irving office and worked with them closely on some large 13k video walled projects.  However, this university spin-off is, despite what Tim Gryffindor from Useless Systems says to the contrary, the unparalleled software leader in throwing pixels at walls.
Mermaid vTouch Pro
Acquired by MultiQ in April 2015 these guys have probably been best known for their work in transport and the public sector.  If you want a screen on a bus, talk to them.
Visix
Wayfinding. Pure and simple. If you want a way finding or employee communications product then these folks are good.
Grassfish
Vienna based Grassfish made a splash many years ago with rumoured deals with Cisco.  Many vendors, including a lot of our now and previous top tens, saw them competing capably for many of the same (big) deals.  They went into their own shell a bit but have some back fighting and definitely a vendor to watch.
ZetaDisplay
If you are looking for a software solution in Scandinavia, the unrivalled vendor in the region (yes, despite Scala's roots in Norway) is ZetaDisplay.  They out-PR everyone and pretty much a jack of all trades but with a specific focus on (and big wins in) retail, banking and supermarkets.
NCR NetKey†
More famous for kiosk software than anything and with multipe NCR software acquisitions under its belt, NetKey just about manages to make it on our list of 25 software vendors we'd work with.  If you are serious about retail then they deserve a look especially if you want some form of kiosk integration as well.
There's no room on our (recommended) list above for 121View, Acquire, Cayin, Cisco DMS (sorry we mean Appspace), ComQi, DGScreen† (now in liquidation), Haivision's CoolSign, MediaTile, Noventri, Park Media, Ryarc, Sony Ziris, WebDT, Wireless Ronin (err CRI) , 3M and many, many others but all have been considered at some point by ourselves.
†After a product or company name indicates a current or past DailyDOOH advertiser (with product or company)
Statistically speaking if you are reading this post then you have most likely just Googled 'digital signage software' or some combination of 'top / best digital signage software' and are either looking for some help sorting through the hundreds of digital signage software offerings in the marketplace or looking to see where your own product stands in a search result.

Let's start by saying then:-

If you are putting together an RFI or an RFP then you should read, and take notice of this list. With only one or two geographic, or very specific vertical exceptions, if a vendor is NOT on this list you are probably wasting your time in even looking at them.
If you are a network, our advice for you is to take a serious look at OpenSplash. OpenSplash is a free, multi-platform, open source media player that can be driven by any content management and scheduling system. You will still most probably need a CMS to manage all of your devices but starting here gives you flexibility in choosing a CMS (now and in the future it's easy to change)
If you are a screen manufacturer, take a serious look at OpenSplash – no other software vendor will create a media player uniquely suited to your own display hardware (except you! AND with OpenSplash you can write your own extensions to take advantage of your own hardware)
If you are a hardware manufacturer (set top box, PC hardware or perhaps a supporter of OPS, take a serious look at OpenSplash – no other software vendor will create a media player uniquely suited to your own hardware (except you! AND with OpenSplash you can write your own extensions to take advantage of your own hardware)
If you are a CMS vendor, look at supporting OpenSplash (see reasons #2, #3 and #4 above)
If you are a CMS vendor, please check the Software Holocron (Digital Signage, Gesture, Kiosk and Touch) to make sure that (a) you have at least one entry and (b) that any entries (we need an entry for your company and for each product) give enough detail
If you are a startup and believe that you too can write your own digital signage software, our advice to you is "Don't Bother!". There are more than enough products in this list already and hardly any of them differentiate themselves from each other. The industry needs innovation so please take a look at the real problems we face and put your minds to work solving those rather than re-inventing the wheel