Gail Chiasson, North American Editor
We had a chance to visit the interim Montreal offices of Nümerix Stratégie this week, mainly to see a 3D-without-glasses demonstration and to learn what exactly the company is doing with the technology developed by Paris-based Alioscopy.
The year-old Nümerix Stratégie is not only a distributor of the technology in North America, but offers a complete turn-key solution, developing content – or working with the creative teams of advertising agencies to develop content – and handling integration for the industrial-type TV screens, and either renting or selling the screens, for use in a variety of situations ranging from retail to medical to corporate offices, events and trade shows.
You may remember that Alioscopy won the DailyDOOH Best In Show Award at the Screen Media Expo Europe in April/09 and, having seen other 3D-without-glasses that impressed us, we can say that this technology really impressed.
We asked Jean Blais, one of the four principals of Nümerix Stratégie, what this 3D offers over competitors.
"This really 'pops'," he said. "It allows you to really 'feel' the space. It shows great depth. Part of it comes from the use of eight cameras."
Current screen sizes are 24", 42" and 47". These 3D screens can run 24 hours a day guaranteed for three years. Turnaround time for a project from inception is between two and three weeks, and pricing is by project, depending on requirements.
Blais, with a career as a photographer and producer, is one of Nümerix Stratégie's team of four who adapt clients' requests into feasible working solutions. The others are Hugues Raiffaud, president, Jonathan Desjardins and Daniel Caouette. Raiffaud has a digital signage background; Desjardins comes out of business development with Imperial Tobacco and Zoom Media; and Caouette's background is creative.
We mentioned earlier that the company currently is in interim offices. That's because business is going so well that it will shortly need a larger space with a studio.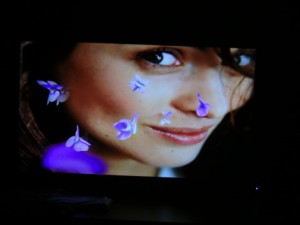 The fact that it can now provide solid numbers to show how well its product works is helping build the business. For example, in a pilot project, Molson used screens to promote its Heineken brand to bartenders, restaurant owners and others in June/09. Ads were shown during the event on both 2D and 3D screens. The results were phenomenal, with eyes on the 3D screens at least three times those on the 2D at almost any hour during the two days, with the final results being 1,442 people captured watching 3D-without-glasses compared to 316 watching the 2d screens. (Nümerix Stratégie can take existing 2D content and adapt it into 3D.)
Many of the first clients for the young company are trying out the screens in trade shows or as pilot projects – for example, Bombardier has used them, complete with audio, with a four-minute promotion for its Ski-Doo at trade shows in the mid-west, and the Société des Casinos du Québec is doing a pilot project at its casino in Charlevoix. And Saputo used a screen at the Salon de la Femme last year. Currently, the Nümerix Stratégie team is excited about Procter & Gamble's current trial of four screens in Jean Coutu pharmacies around the province to promote various P&G product brands. The screens are being rotated in various pharmacies to get a true picture of how the screens help sales.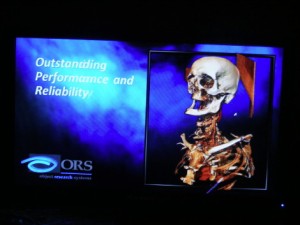 One of the most fascinating uses of the technology we saw the demonstration was its use in the medical field. For example, it's possible to combine several black-and-white MRIs together and produce a full colour in-depth body image that can be used for diagnostic study. In some cases, this might even replace the need for cadavers for teaching purposes.
"The educational possibilities for this are enormous," says Blais, adding that screens have been used at a medical trade show and by at least one biopharmaceutical company. "We can guaranty perfect colour correspondence."
We wondered about the ease of changing the 3D creative if a company has a screen.

"It's as simple as getting a new USB key," says Blais. "It allows for fast change of advertising or other content. It's just 'plug and play'."
With more demand in the industry for 3D, Blais says that prices are going down and that 3D is one of the most cost-efficient means for effective advertising and promotion.
"We have a team of engineering partners who can adapt almost any needs into a feasible working solution," he says.
And if the constant requests Nümerix Stratégie is getting for product demonstrations are any indication, we expect the company will be needing those bigger offices soon.