Adrian J Cotterill, Editor-in-Chief
Not that anyone is flying (anywhere) into or out of the United Kingdom of Great Britain and Northern Ireland at the moment but last week (before the snow to be fair) Airport media specialist, EYE announced that Coca-Cola has brought their Christmas campaign back to Belfast International Airport for the second year running.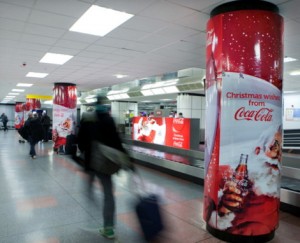 Coca-Cola's welcoming message extends across the arrivals area at Belfast International from lightboxes on the baggage reclaim carousels to Digital Eyelites as Flyers are leaving the area.
Aoife Nagle from Coca-Cola Ireland told us "We are delighted once again to be back in Belfast International Airport. Working alongside the wider Coca-Cola Christmas campaign, we hope it gets everybody in the festive holiday mood."
This year, the classic advertisement featuring a train of glowing Coca-Cola trucks as well as Santa Claus will be seen throughout the airport. The airport creative follows the theme of the televison commercial where the famous song 'Holidays are coming' accompanies the trucks on their journey and Coca-Cola's famous Santa Claus, who first appeared in Coca-Cola's advertising back in 1931, joins in to spread the holiday message.