#ScreenMediaExpo 2011 (18-19 May, Earls Court) is quickly evolving beyond just digital signage and DOOH to become the European forum for all digital place-based media technologies and applications.

Convergence is the big theme this year in recognition of the impact that growing media channels such as mobile, interactive, augmented reality, 3D and social media are having on the traditional digital signage sector.
Returning for its sixth year, the expo is hosting a brand new Screenmedia Professionals Conference and the 3rd Annual DOOH Media Summit, along with a high quality learning programme plus a series of workshops, presentations and seminars. Over 4,000 visitors are expected to attend #ScreenMediaExpo 2011.
Mark Pigou, Director of Screen Events told us "The expo is consistently growing year on year, as is the digital place-based media sector, and this makes for exciting times ahead. What is essential is that we as an industry continue to collaborate, network, inspire and create in order to establish digital media as a more attractive, viable opportunity for brands, agencies, marketers and end users to engage with. The expo is an ideal platform to make this happen."
BroadSign and Intel have been announced as 2011 title sponsors and confirmed programme speakers include 3M, Ayuda, Akeman Solutions, Arsenal Media, Kinetic WorldWide, LocaModa, Open Eye & SCG London, ROI Team and GoldRun.
New sectors, new visitors
During the conferences and on the show floor, visitors will be able to experience how digital signage is infiltrating every area of our lives.
New vertical markets are showing interest in this sector and are going to be visiting the #ScreenMediaExpo. The variety and quality of the exhibitors so far reflects this and will not let them down.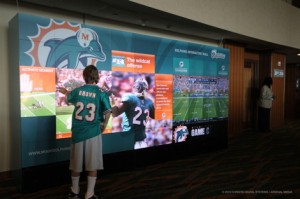 Arsenal Integrated will be showing its BuzzWall for the first time anywhere outside North America and undoubtedly it will attract a lot of attention.
The BuzzWall is an all-in-one multimedia interactive application created by Arsenal Integrated in conjunction with Christie Digital and the first installation has been running since mid-November on the club level of Sun Life Stadium (home of the Miami Dolphins).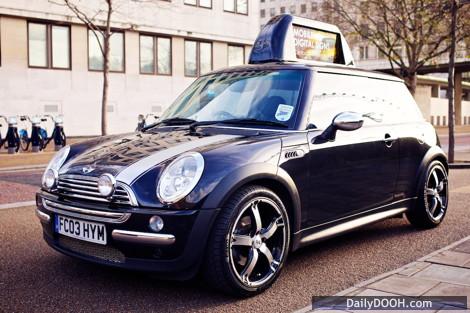 If you are looking for 'digital signage on wheels' you won't be disappointed as you will be able to see iTaxitop from Eyetease Media, and several Digiadvans (though most probably NOT showing the UK General Election as it happened like last year!!!).
Now, if your thing is to attract your audience with new ways of displaying your content, at Screen Media you will be able to experience the use of holograms and augmented reality.
Digital Day
Past expos have proved the value of seeing the latest cutting-edge products, technologies and techniques, and hearing best practice approaches from the experts.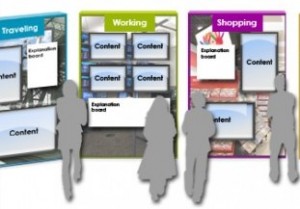 Subsequently, this year's visitors will be guided through a "digital day", exploring how digital place-based media impacts a person as they journey through a typical day travelling to work, at work, shopping and relaxing.
Using physical screens, kiosks and interactive installations to provide real examples, visitors can self-guide or be guided by resident experts in a structured tour. The installation will also show how people can engage with screens using hand and body gestures, mobile phones and user generated content.
Screenmedia Professionals Conference
Also new for 2011 is the Screenmedia Professionals Conference, a one-day must-attend event for business leaders, senior managers and expert practitioners within the digital signage, interactive kiosk, ATM, mobile, augmented reality and multichannel media sectors regardless of the specific vertical. This standalone conference, co-located with #ScreenMediaExpo, will be held on 18th May in Earls Court One Conference Centre and is particularly relevant to marketing, technology and investor stakeholders looking to understand the opportunities for growth in the coming year. The Call for Papers is now open and the agenda is being directed by the Imperative Group, an independent Digital Place-based Media development and communications agency.
Education programme
Additionally, over the two days of #ScreenMediaExpo, a free-to-attend education programme will be running in four theatres on the show floor. Thought leaders from across the spectrum of digital place-based media will offer visitors insight and opinion on the big debating points, share experiences, offer guidance and present real case studies. Produced in association with the Imperative Group, the four programme tracks are as follows:
Track 1: 24/7 Digital – Reaching people with Digital Place-based Media when and where it matters
Track 2: Exploiting Digital – Best practice to help retailers and future network owners build a case for developing a Digital Place-based Media Network
Track 3: Joining the Dots – The diversification and unification of place-based media: making sense of your digital options
Track 4: Power to the People – Digital Place-based Media is becoming more democratic: what this means and how to embrace the shift. To view the speakers information pack for the education programme you can download the PDF by clicking here
Have your say
At #ScreenMediaExpo DailyDOOH will also run its Digital Signage Round Table in conjunction with RapidTV. The event will be held in front of a live audience of 100+ folks and will present two new panelists.
Register and keep up to date with the latest pre-show news and information here as well as social and professional groups, including LinkedIn: #ScreenMediaExpo and Twitter: twitter.com/ScreenMediaExpo.