Adrian J Cotterill, Editor-in-Chief
It is great to see Bose bringing their newly launched SoundDock Portable and their revolutionary In-Ear headphones closer to the iPod generation by running a London-wide Tricast campaign. This is the 3rd time that Captive People have convinced Bose (and their media planners) to run a campaign in the digital out of home sector.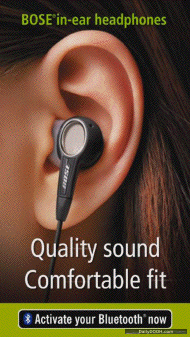 It's the first 'Christmas' campaign that I have reported on (there should be many more of these to boost the sector) – starts 1st of November and runs for 6 weeks.
Tricast riders – supplied by Kru Live – will be offering passing commuters free silicon tips (for the earphone) and a chance to get a demo at one of Bose's London stores.
Creative was designed and produced by Bose's in-house team in The Netherlands where 2 x 15" fully animated spots were developed along with associated Bluetooth messages which point to a specially created microsite, www.tribose.co.uk
Captive People's Tricast network (of bikes) was if you remember one of my hot tips / recommendations for the recent AV awards (alas that was not to be and instead we had 'more of the same' AV installers). Tricast is 'green', innovative and deserves some success.
www.captivepeople.com
www.krulive.com